Nigerian lady commits suicide after married boyfriend broke up with Her
|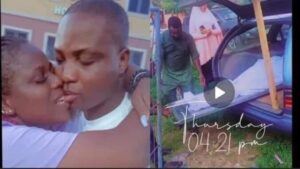 A Twitter user identified as @olukay99 said that his friend, Kemi was dating a married man and the man was also dating three other girls in their group chat and after discovering the affair he was having with the other ladies, she drank snipper and died immediately.
According to him, he feels so bad, disappointed and broken over the decision his friend took by committing suicide.
Read EFCC Nabs Officer Who Leaked Video Showing Ex-Anambra Governor
Folks is men worth dying for?? Ladies pls no matter what the situation maybe take a walk out of that relationship that is draining your energy, making you bitter and sad depriving you of your happiness doesn't worth it biko,mbok,e dakun ooo cos no man is worth dying for all because of gbola I will rather choose happiness over men o eni toku nitie segbe oo Note…Viewers discretion advised….Adult content attached.
I've seen this in 3 WhatsApp groups this morning, the lady, in the picture was found dead after consuming sniper because the CEO of the group they belong to broke her heart , the man is said to be married and the lady a single mom.they are having an affair no be juju be that?
Read Nigerian army sacks private soldier for taking picture in his superior's office
What could have gone wrong ,yes love intoxicates, heartbreak can really be demoralizing, shattering one into pieces but in the midst of the pain, confusion and hurt, is there nothing to live for other than a man or love? How will her child /children feel growing up and later hear this story? Mind you it was also said he sleeps with ladies in his group at will and that the deceased was aware.
It's really a sad one, if it's (love) hurting you then walk away, love yourself enough to opt out of a toxic relationship, I've experienced one and honestly it wasn't funny neither was it easy I kept praying strength to leave and suddenly crisis here and there and I saw an open ticket to fly out Kai it was draining but I found peace again. Unfortunately not everyone has that grace ….. Will the guy who is a lawyer be found guilty for this ?