Tinubu too old and too weak to run for President- Pete Edochie
|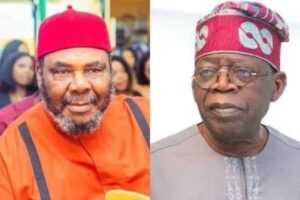 Nollywood veteran actor, Pete Edochie on Friday said one of the All Progressives Congress aspirants, Bola Tinubu, is too old and too weak to run for president in 2023.
Tinubu, a former Lagos governor, is also the national leader of the party.
However, the actor noted that Tinubu has been in power for a long time until he was made the leader of the APC.
The actor made this known during an interview with BBC Igbo, on Friday, stressing that Tinubu should leave the position for those who are younger and healthier.
The Nollywood star who highlighted his concerns about the political marginalisation of Igbos, said Igbo, Hausa, and Yoruba are the major ethnic groups in Nigeria, noting that only once in the history of Nigeria has it emerged that an Igbo person became the head of state in Nigeria.