Video: Uduak Akpan attempts to escape from court after being sentenced to death by hanging
|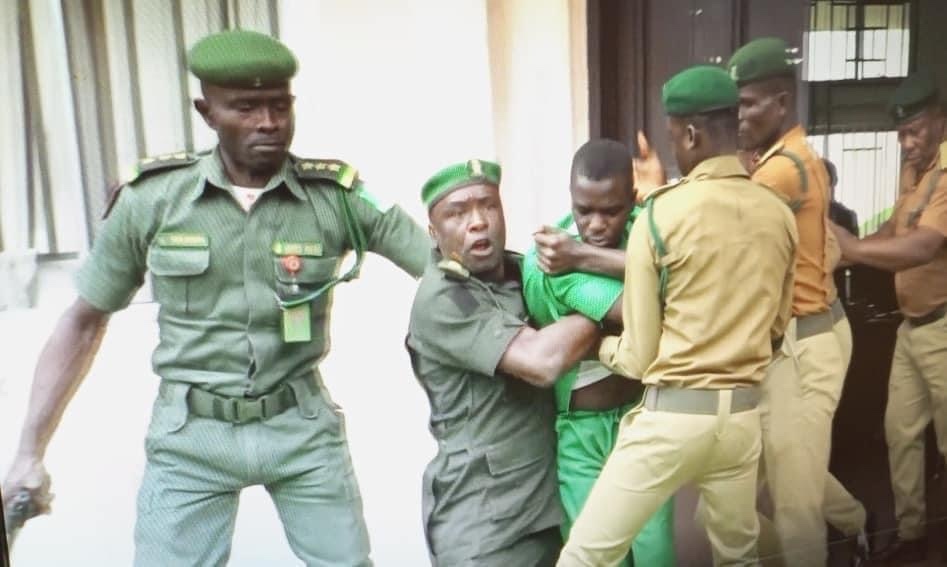 Uduak Akpan who was on Thursday sentenced to death by hanging by an Akwa Ibom High Court sitting in Uyo attempted to escape from being whisked away by prison and security officials.
Uduak murdered Iniubong Umoren, a job seeker from Oruk Anam whom he lured to his father's residence in Uruan on the pretext of offering her a job.
Read Breaking News: Again London Court Denies Ekweremadu Bail
TheMail Newspaper reports that it took the vigilance and timely intervention of the security officials who overpowered him before taking him inside the waiting prison van.
The Attorney General and Commissioner for Justice, Uko Udom, SAN appreciated security agencies (especially the police and DSS) for their investigations that aided the state in presenting a solid case before the court. He also thanked the security agents present in court for stalling the attempted escape of the sentenced murderer.
"I don't think it (the attempted escape) is something to be surprised about. This young man committed some very grievous and gruesome offenses. I think the security officials were very attentive and that is why they were able to overcome him and put him up", Uko Udom said while fielding questions from newsmen.
Read Breaking News: Uduak Akpan Sentenced To Death For The Murder Of Umoren
He also said that the state will study the judgment and determine whether to appeal the discharge and acquittal of Uduak's father and sister or not.
Watch video