Biography of Ansu Fati, Career and Net Worth
|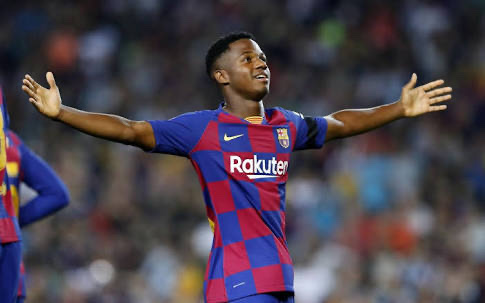 Today, we will be sharing with you a summarized documentation on the biography of the young player Ansu Fati.
Introduction
I know a lot of persons might be wondering who is Ansu Fati. Well, Ansu Fati is a young Spanish professional Football Player and an instagram personality. He is among the youngest players in the world of international footballers and he is famous for playing professionally for the Spanish Club FC Barcelona
Childhood and Earlylife
The young player, Ansu Fati was born on October 31,2002. He is originally from Guinea-Bissau. He was raised in a small West African nation of Guinea-Bissau by his Father Bori Fati and mother Lardes Fati.
Ansu also has four other siblings which includes two brothers Miguel and Brahima Fati and two sisters Djeny and Djucu Fati, his brothers are into football sports as well. At a very young age, Ansu and his family moved to Spain and started to live in Herrera, Seville, Andalusia. Ansu Fati is also a Christian.
Career and Net worth
Ansu started playing football at a very young age, he began to perform first for the local teams like CDF Herrera and Seville FC. In 2012, he joined and represented FC Barcelona 's La Masia when he was just 10 years old then.
Recently, on July 24,2019, Ansu signed his First professional deal with the Catalans which was meant to run until 2022, he also made his debut with team in LA Liga.
Ansu plays and performs as a left-winger for his team FC Barcelona and he came into spotlight when he came out as a late substitute for goalscorer Carles perez
Ansu Fati's networth is high, he earns up to 100 million Euro for playing for FC Barcelona and he also earns from event appearance, little sponorship and endorsements.
Physical statistics
Ansu Fati's height is 5 feet 10 inches tall. He is also maintains his slim, fit and healthy physique by practicing the game almost every day and his body weight is estimated to be around 75kg.
Other facts about Ansu Fati
• Fati was announced to be the second-youngest player when he represented the Catalan giants in La Liga.
• Fati has a fantasy of 473+k followers following him on his instagram page .
• Fati has never mentioned anything about any girlfriend, so he is assumed that he is single and focusing