GTBank Branches in Bayelsa
|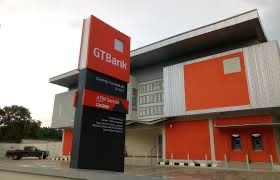 Guarantee Trust Bank otherwise known as GTBank is one of the leading financial institutions in Nigeria with its branches across the country. GTBank specializes in Online/Internet Banking, Retail Banking, Corporate Banking, Investment Banking and Asset Management services.
GTBank was established in 1990 as a limited liability Company but commenced operation on 1991. In 2007, GT Bank became the first Nigerian Bank to be listed in the London Stock Exchange and Deutsche Borse. By 2011, GTBank became the largest bank in Nigeria by market capitalization.
In 2013, GTB acquired Fina Bank and its subsidiaries. GTB has over 10,000 employees and 231 branches. Below are GTBank Branches in Bayelsa
Guaranty Trust Bank plc.
Address: Sanni Abacha Way, Amarata, Bayelsa State.