Maryam Sanda and Bilyamin Muhammed Bello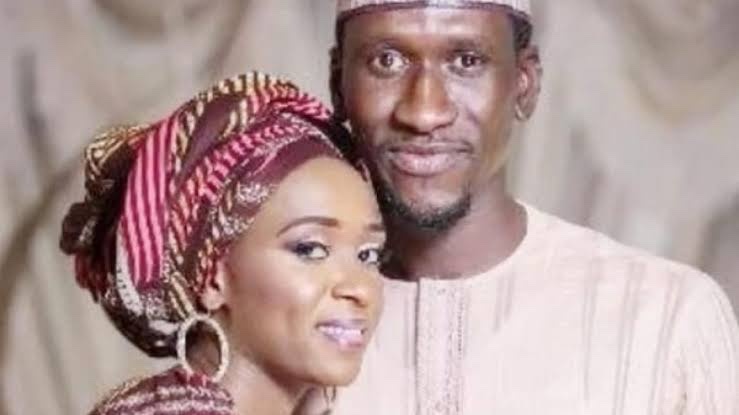 Maryam Sanda was the wife of Mr Bilyamin Muhammed Bello, the son of Bello Haliru Mohammed, a former minister of communication and a chieftain of the Peoples Democratic Party (PDP). Maryam Sanda was the daughter of a former Executive Director of Aso Savings, Hajiya Maimuna Aliyu Sanda.
Maryam Sanda stabs

Bilyamin Muhammed

Bello

to death over

infidelity

Maryam Sanda in November,2017 stabbed her husband Bilyamin Muhammed Bello to death in their residence in Pension Estate, Pakali Close, Wuse 2, Abuja over infidelity.

The fight between Maryam Sanda and Mr Bilyamin Muhammed Bello was serious that family members and friends were called to resolve the issue. Maryam was said to have demanded a divorce.

According to a friend of Mr Bilyamin Muhammed Bello, Mustapha Dikko, Maryam daughter-in-law with her late husband Bilyamin after seeing correspondences between him and another woman on his phone.

Dikko said

"We were with them at their residence at Pension Estate, Pakali Close, Wuse 2, Abuja till late in the evening when she continued shouting on top of her voice that he must divorce her because she alleged that he was chatting with his girlfriends and we mediated.

"When we left, after one hour later, we were informed that he had died as a result of several stabs in chest and abdomen."

Around 2am, family members were summoned to Maitama Hospital where Bilyamin Muhammed Bello body was lying lifeless in his pool of blood with multiple stabs on his chest, shoulder, a deep cut on his inner thigh, and many bite wounds on his stomach. Maryam confessed to stabbing him.

However, while writing her statement at Maitama Police Station, Sanda changed her story claiming Bilyaminu sustained injuries from a broken shisha pot after they got involved in a fight. Sanda denied stabbing her husband.

Following the death of Bilyamin Muhammed Bello, Maryam Sanda was arrested and charged with double homicide. The then spokesman for the FCT Police Command, DSP Anjuguri Manzah said the case have been transferred to the Criminal Investigation Intelligence Department (CIID) for speedy investigation.
Maryam Sanda

Sentence

d to

death

by

Hanging

On 27th January, 2020, Justice Yusuf Halilu sentenced to death by hanging after she was found guilty of two count charges.

Justice Halilu during the sentence said there are compelling evidences against Ms Sanda adding that the evidence proves Sanda stabbed her husband with kitchen knife.

He also dismissed claims by Ms Sanda that her husband fell on a broken shisha pot and died
Bily

amin and Ms Sanda

Children

Maryam Sanda and Bilyamin Muhammed Bello together have a daughter Aleesha