Biography of Samuel Ortom, Career and Personal life
|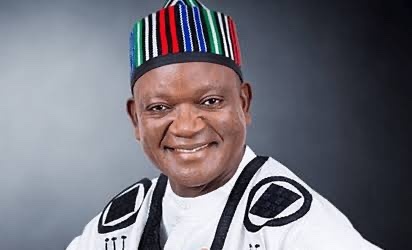 This is the biography of Samuel Ortom
Samuel Loraer Ortom was born on 23rd April, 1961 in Guma Local Government Area of Benue state. He is a Nigerian businessman, philanthropist and governor of Benue state. Ortom was the Minister for State Trade between 2011 and 2015.
Educational background
Samuel Ortom attended St. John's Primary School, Gboko, Benue State between 1970 and 1974. In 1974, he moved to St. Catherine's Primary School where he obtained his First School Leaving in 1974. Ortom proceeded to Idah Secondary Commercial College, Idah.
However, in 1979, Ortom's education was cut short for financial reasons after his father retired from civil service. Ortom became a professional driver to make ends meet.
Ortom obtained a diploma in salesmanship as well as the General Certificate of Education. In 1995, he obtained the Interim Joint Matriculation Board Certificate from the Ahmadu Bello University. In 1998, Ortom obtained a diploma in journalism from the same university.
In 2001, Ortom obtained an advanced diploma in personal management from the Benue State University. In 2004, he obtained a Masters Degree in Public Administration.
Ortom engaged in distance learning. He got a Ph.D in Philosophy from Commonwealth University, Belize.
Career
Samuel Ortom has been active in Nigerian politics having served as the Publicity Secretary, the National Centre Party of Nigeria. He was also the state treasurer of the All Peoples Party (APP). Ortom also served in the capacity of a State Secretary as well as State Deputy Chairman of the Peoples Democratic Party (PDP) in Benue state.
In 2007, Ortom served as the Director of Operations of the PDP gubernatorial campaign in Benue State.
In 2011, Ortom served in the capacity of Director of Administration and Logistics of the Goodluck/Sambo Presidential Campaign Organization. He was later appointed the State Federal Minister of Industry, Trade and Investment an office he held till August,2014.
In 2014, Ortom left the Peoples Democratic Party (PDP) for All Progressive Congress (APC). He picked up the nomination form to run for Benue state Governor. Ortom emerged victorious after the 2015 general election. He was sworn in as governor on 29th May, 2015.
Ahead of the 2019 gubernatorial election, Ortom returned to PDP. He won the primary election and was re-elected for a second term in office. Having polled 434,473 votes while the 1st runner up Mr. Emmanuel Jime of The All Progressive Congress polled 345,155 votes.
Personal life
Ortom is married to Dr Mrs. Eunice Ortom
Awards
Ortom won the Selfless Service Award organized by the National Union of Benue State Students (UniCal Chapter) in 2014