Top 100 Most Expensive Football Transfers of All Time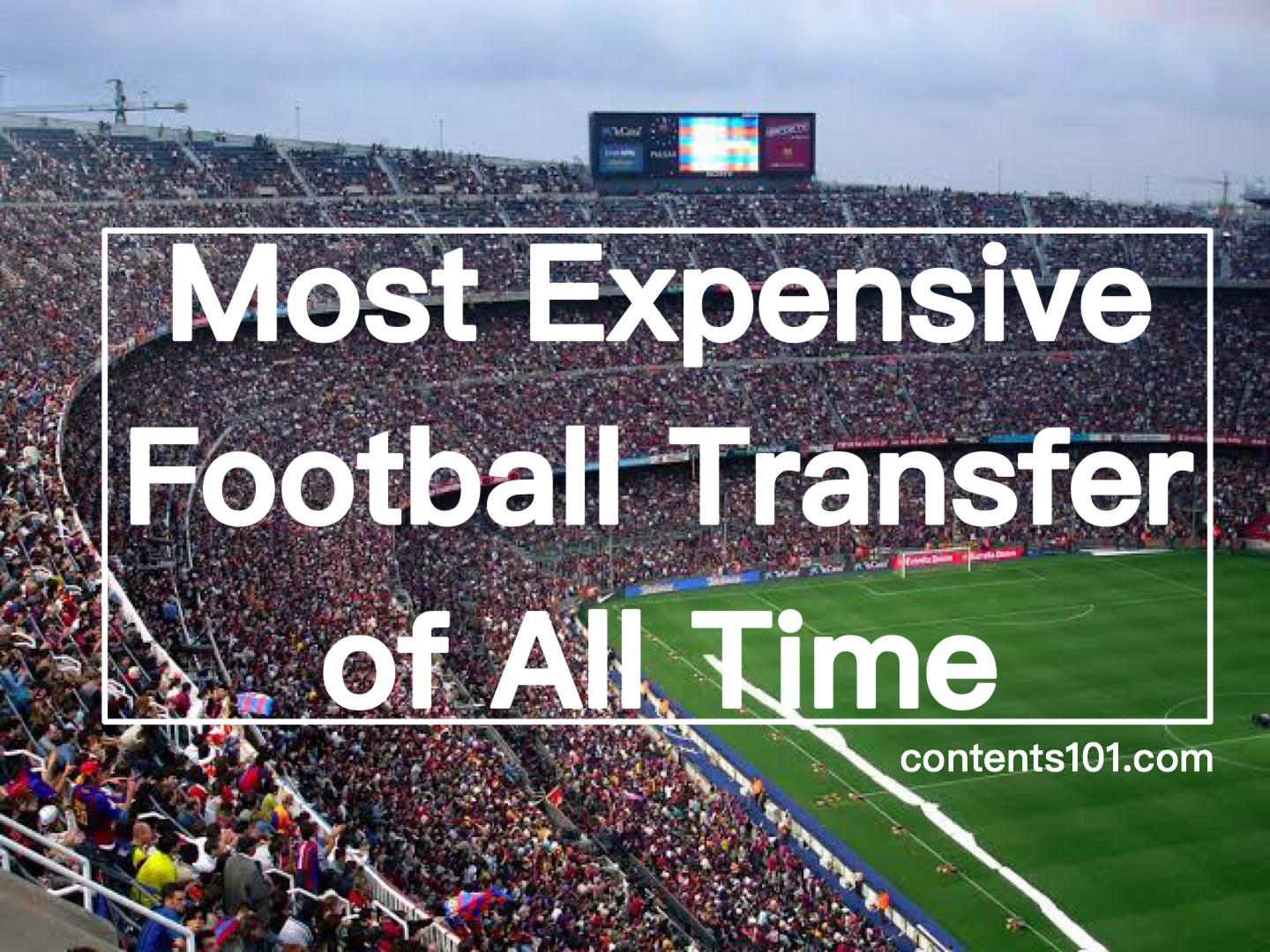 Football transfer is one of the most anticipated activities in football. Not just the footballers anticipate the moves, the football fans across the world do so. In the list of most football transfer of all time we have the likes of Neymar Jr., Mbappé, Zidane, Ronaldo and many others.
The most expensive football transfer of all time is €222m transfer fee paid during Neymar Jr. move from Barcelona to PSG. French and PSG striker Kylian Mbappé is the most expensive teenage player of all time. Harry Maguire is the most expensive defender while Chelsea goalkeeper Kepa Arrizabalaga is the most expensive goal keeper.
However, this list of the most expensive football transfer ever was compiled by contents101 as at 2020. The record could change over time.
Top 100 Most Expensive Football Transfer of All Time
| | | | | |
| --- | --- | --- | --- | --- |
| Pos. | Player | Clubs | Year | Fee |
| 1 | Neymar | Barcelona – PSG | 2017 | €222m |
| 2 | Kylian Mbappe | Monaco – PSG | 2017 | €145m (+€35m) |
| 3 | Joao Felix | Benfica – Atletico Madrid | 2019 | €126m |
| 4 | Philippe Coutinho | Liverpool – Barcelona | 2018 | €120m (+€40m) |
| 4 | Antoine Griezmann | Atletico Madrid – Barcelona | 2019 | €120m |
| 6 | Ousmane Dembele | Borussia Dortmund – Barcelona | 2017 | €105m (+€45m) |
| 6 | Paul Pogba | Juventus – Manchester United | 2016 | €105m |
| 8 | Gareth Bale | Tottenham – Real Madrid | 2013 | €100.8m |
| 9 | Cristiano Ronaldo | Real Madrid – Juventus | 2018 | €100m |
| 9 | Eden Hazard | Chelsea – Real Madrid | 2019 | €100m (+€40m) |
| 11 | Cristiano Ronaldo | Manchester United – Real Madrid | 2009 | €94m |
| 12 | Gonzalo Higuain | Napoli – Juventus | 2016 | €90m |
| 13 | Harry Maguire | Leicester City – Manchester United | 2019 | €87.1m |
| 14 | Neymar | Santos – Barcelona | 2013 | €86.2m |
| 15 | Romelu Lukaku | Everton – Manchester United | 2017 | €84.8m |
| 16 | Virgil van Dijk | Southampton – Liverpool | 2018 | €84.5m |
| 17 | Luis Suarez | Liverpool – Barcelona | 2014 | €82.3m |
| 18 | James Rodriguez | Monaco – Real Madrid | 2014 | €80m |
| 18 | Kepa Arrizabalaga | Athletic Club – Chelsea | 2018 | €80m |
| 18 | Lucas Hernandez | Atletico Madrid – Bayern Munich | 2019 | €80m |
| 18 | Romelu Lukaku | Manchester United – Inter | 2019 | €80m |
| 22 | Nicolas Pepe | Lille – Arsenal | 2019 | €79m |
| 23 | Alvaro Morata | Real Madrid – Chelsea | 2017 | €78.9m |
| 24 | Zinedine Zidane | Juventus – Real Madrid | 2001 | €77.5m |
| 25 | Matthijs de Ligt | Ajax – Juventus | 2019 | €75m (+€10.5m) |
| 25 | Kevin De Bruyne | Wolfsburg – Manchester City | 2015 | €75m |
| 25 | Frenkie de Jong | Ajax – Barcelona | 2019 | €75m |
| 28 | Angel Di Maria | Real Madrid – Manchester United | 2014 | €74.6m |
| 29 | Alisson Becker | Roma – Liverpool | 2018 | €73m |
| 30 | Arthur Melo | Barcelona – Juventus | 2020 | €72m (+€10m) |
| 31 | Kai Havertz | Bayer Leverkusen – Chelsea | 2020 | €70m (+€9m) |
| 31 | Luka Jovic | Frankfurt – Real Madrid | 2019 | €70m |
| 31 | Rodri | Atletico Madrid – Manchester City | 2019 | €70m |
| 34 | Zlatan Ibrahimovic | Inter – Barcelona | 2009 | €69.5m |
| 35 | Raheem Sterling | Liverpool – Manchester City | 2015 | €69.1m |
| 36 | Riyad Mahrez | Leicester City – Manchester City | 2019 | €67.8m |
| 37 | Diego Costa | Chelsea – Atletico Madrid | 2018 | €66m |
| 38 | Thomas Lemar | Monaco – Atletico Madrid | 2018 | €65m |
| 38 | Kaka | AC Milan – Real Madrid | 2009 | €65m |
| 38 | Aymeric Laporte | Athletic Club – Manchester City | 2018 | €65m |
| 38 | Joao Cancelo | Juventus – Manchester City | 2019 | €65m (inc. Danilo) |
| 42 | Edinson Cavani | Napoli – PSG | 2013 | €64.5m |
| 43 | Pierre-Emerick Aubameyang | Borussia Dortmund – Arsenal | 2018 | €63.75m |
| 44 | David Luiz | Chelsea – PSG | 2014 | €62.5m |
| 45 | Angel Di Maria | Manchester United – PSG | 2015 | €61.6m |
| 46 | Oscar | Chelsea – Shanghai SIPG | 2017 | €60.3m |
| 47 | Miralem Pjanic | Juventus – Barcelona | 2020 | €60m (+€5m) |
| 47 | Naby Keita | RB Leipzig – Liverpool | 2018 | €60m |
| 47 | Luis Figo | Barcelona – Real Madrid | 2000 | €60m |
| 47 | Tanguy Ndombele | Lyon – Tottenham | 2019 | €60m |
| 51 | Fernando Torres | Liverpool – Chelsea | 2011 | €59m |
| 52 | Fred | Shakhtar Donetsk – Manchester United | 2018 | €58.9m |
| 52 | Jorginho | Napoli – Chelsea | 2018 | €58.9m |
| 54 | Hulk | Zenit – Shanghai SIPG | 2016 | €58.6m |
| 55 | Benjamin Mendy | Monaco – Manchester City | 2017 | €58.2m |
| 56 | John Stones | Everton – Manchester City | 2016 | €58m |
| 57 | Kyle Walker | Tottenham – Manchester City | 2017 | €56.7m |
| 58 | Ben Chilwell | Leicester City – Chelsea | 2020 | €55.8m |
| 59 | Bruno Fernandes | Sporting – Manchester United | 2020 | €55m (+€25m) |
| 59 | Hernan Crespo | Parma – Lazio | 2000 | €55m |
| 61 | Alexandre Lacazette | Lyon – Arsenal | 2017 | €53m (+€7m) |
| 61 | Timo Werner | RB Leipzig – Chelsea | 2020 | €53m |
| 63 | Gianluigi Buffon | Parma – Juventus | 2001 | €52m |
| 64 | Eliaquim Mangala | Porto – Manchester City | 2014 | €51.7m |
| 65 | Alex Teixeira | Shakhtar Donetsk – Jiangsu Suning | 2016 | €50m |
| 65 | Bernardo Silva | Monaco – Manchester City | 2017 | €50m |
| 65 | Fabinho | Monaco – Liverpool | 2018 | €50m |
| 65 | Eder Militao | Porto – Real Madrid | 2019 | €50m |
| 65 | Aaron Wan-Bissaka | Crystal Palace – Manchester United | 2019 | €50m |
| 65 | Victor Oshimhen | Lille – Napoli | 2020 | €50m |
| 71 | Anthony Martial | Monaco – Manchester United | 2015 | €49.3m |
| 72 | Gylfi Sigurdsson | Swansea City – Everton | 2017 | €49.2m |
| 73 | Leroy Sane | Manchester City – Bayern Munich | 2020 | €49m (+€11m) |
| 73 | Christian Vieri | Lazio – Inter | 1999 | €49m |
| 75 | Gaizka Mendieta | Valencia – Lazio | 2001 | €48m |
| 75 | Ferland Mendy | Lyon – Real Madrid | 2019 | €48m |
| 77 | Mesut Ozil | Real Madrid – Arsenal | 2013 | €47m |
| 78 | Juan Sebastian Veron | Lazio – Manchester United | 2001 | €46m |
| 78 | Rio Ferdinand | Leeds United – Manchester United | 2002 | €46m |
| 78 | Ronaldo | Inter – Real Madrid | 2002 | €46m |
| 78 | Juan Mata | Chelsea – Manchester United | 2014 | €46m |
| 78 | Douglas Costa | Bayern Munich – Juventus | 2017 | €46m |
| 83 | Christian Benteke | Aston Villa – Liverpool | 2015 | €45.8m |
| 84 | James Rodriguez | Porto – Monaco | 2013 | €45m |
| 84 | Joao Mario | Sporting C.P. – Inter | 2016 | €45m |
| 84 | Granit Xhaka | Borussia Monchengladbach – Arsenal | 2016 | €45m |
| 84 | Tiemoue Bakayoko | Monaco – Chelsea | 2017 | €45m |
| 84 | Richarlison | Watford – Everton | 2018 | €45m |
| 84 | Vinicius Junior | Flamengo – Real Madrid | 2018 | €45m |
| 84 | Rodrygo | Santos – Real Madrid | 2019 | €45m |
| 84 | Mateo Kovacic | Real Madrid – Chelsea | 2019 | €45m |
| 84 | Sebastien Haller | Eintracht Frankfurt – West Ham | 2019 | €45m |
| 93 | Nemanja Matic | Chelsea – Manchester United | 2017 | €44.7m |
| 94 | Youri Tielemans | Monaco – Leicester City | 2019 | €44.6m |
| 95 | Leroy Sane | Schalke – Manchester City | 2016 | €44m |
| 96 | Andriy Schevchenko | AC Milan – Chelsea | 2006 | €43.9m |
| 97 | Robinho | Real Madrid – Manchester City | 2008 | €43m |
| 97 | Radamel Falcao | Atletico Madrid – Monaco | 2013 | €43m |
| 99 | Alexis Sanchez | Barcelona – Arsenal | 2014 | €42.5m |
| 100 | Rui Costa | Fiorentina – AC Milan | 2001 | €42m |
| 100 | Javier Pastore | Palermo – PSG | 2011 | €42m |
| 100 | Thiago Silva | AC Milan – PSG | 2012 | €42m |
| 100 | Jackson Martinez | Atletico Madrid – Guangzhou Evergrande | 2016 | €42m |
| 100 | Henrikh Mkhitaryan | Borussia Dortmund – Manchester United | 2016 | €42m |
| 100 | Mohamed Salah | Roma – Liverpool | 2017 | €42m |
| 100 | Leonardo Bonucci | Juventus – AC Milan | 2017 | €42m |