Wizy Macaulay Has Apologized To His Younger Sister Annie Idibia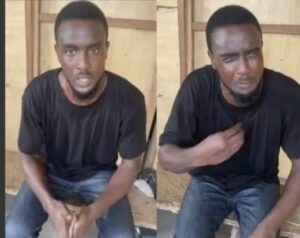 Wisdom Macaulay has taken to Instagram to apologise to his sister Annie Macaulay Idibia for the accusations he made against her online.
Wisdom had accused Annie of using him as his slave and refusing to pay for his services. He also accused her of being on drugs and introducing him to drugs. He went on to call her manipulative and wicked.
Read Chief Iman Sheikh Nuru Khalid In Abuja Has Been Sacked For Criticising Buhari
In another video, he asked her to pay him for the services he rendered to her and claimed that Annie wants him to always be dependent on her.
He has now released another video to apologise to her.
In the new video, he apologised to the Macaulay family, the Idibia family, his in-laws, his wife, and to Nigerians.
Read Buhari Used As An Example Of A Bad Leader During Lectures At Robert Gordon University In Scotland
He said his sister is not on drugs and he has never seen her with drugs.
He added that he is just going through depression, hence his behaviour