Just in: NBA cancels conference over murder of Sokoto college student
|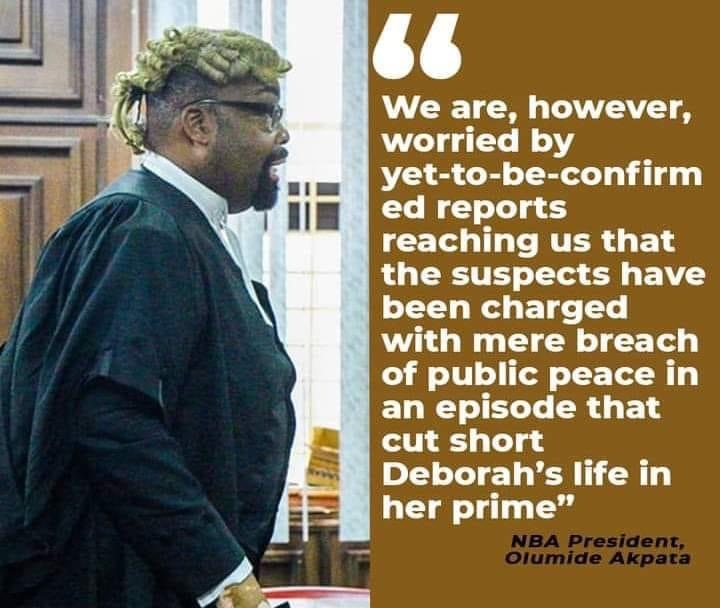 The NBA decided to cancel the conference after the killing of Deborah Yakubu over alleged blasphemy drew nationwide outrage.
The Nigerian Bar Association (NBA), on Tuesday, called off its conference that was scheduled to hold in Sokoto State following the brutal killing of Deborah Yakubu, a 200-level student of Shehu Shagari College of Education in Sokoto, over alleged blasphemy.
The event, with the theme, 'Rule of Law and Democratic Evolution in Nigeria', was scheduled to hold in Sokoto between May 22 and 26.
Miss Yakubu was accused of blasphemy and subsequently lynched with her body set ablaze by a mob last Thursday in Sokoto. The mob was made up of mainly fellow students.
The incident drew nationwide outrage with many calling for the prosecution of those involved in the killing.
In the wake of the student's murder and the arrest of some suspects linked to the murder, protests erupted leading to the torching of properties.
A former chairman of the National Human Rights Commission (NHRC), Chidi Odinkalu, and a former education minister, Oby Ezekwesili, among many other prominent Nigerians, had called for the cancellation of the NBA conference after the gruesome murder.
Reporters reported how Mr Odinkalu, one of the expected participants at the conference organised by the Section on Public Interest and Development Law (SPIDEL) of the NBA, announced his withdrawal from the conference on account of Miss Yakubu's lynching.
Mr Odinkalu announced his withdrawal from the conference in a statement last Friday.
"I, Chidi Anselem Odinkalu, am cancelling my participation," he said. "I will, in addition, actively campaign against the meeting."
But the SPIDEL chairman, Monday Ubani, in a statement, described the calls for the cancellation of the conference as "preposterous."