Debt Financing: Sack Workers Aged 50yrs, Increase Vat Rate To About 20% – Governors
|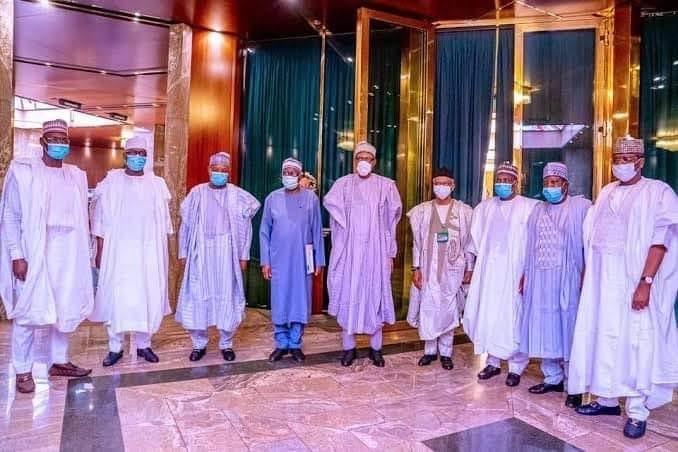 In a bid to prevent the nation from imminent economic collapse, the Nigerian governors have advised the federal government to retire all federal civil servants who are older than 50 years.
The governors also want the government to raise taxes across boars as well as levy anyone earning N30,000 and above monthly.
The governors made the proposal at a meeting with President Muhammadu Buhari in July, an online publication, PREMIUM TIMES exclusively gathered from sources privy to details of the meeting.
According to details of the 2022 fiscal performance report for January through April, Nigeria's total revenue stood at N1.63 trillion while debt servicing stood at N1.94 trillion, showing a variance of over N300 billion.
As part of measures to restore fiscal discipline, the governors advised the federal government to reduce expenditure immediately by eliminating petrol subsidy and NNPC-funded projects, cap the Social Investment Programme (SIP) and National Poverty Reduction with Growth Strategy (NPRGS) budgets to N200 billion, eliminate extra-constitutional deductions from FAAC, and reduce SWV items for SDG and NASS Constituency projects.
Similarly, they suggested that state Sales Taxes (flat rate of 10%) should be enacted for the 36 States and FCT, VAT levels increased to 10% with a timeline to raise it to between 15% and 20%, as well as re-introduction and passage of VAT into the Exclusive List. It was not clear whether all governors agreed with the position on VAT being moved to the exclusive list.
To improve tax revenues, they suggested that the federal government should introduce a flat 3% Federal Personal Income Tax on all Nigerians earning more than N30,000 per month, adding that persons earning less than N30,000 per month whether employed or not, including farmers and traders, should pay a monthly FPIT of N100.