How to cook Nigerian Jollof Rice, ingredients and Method
|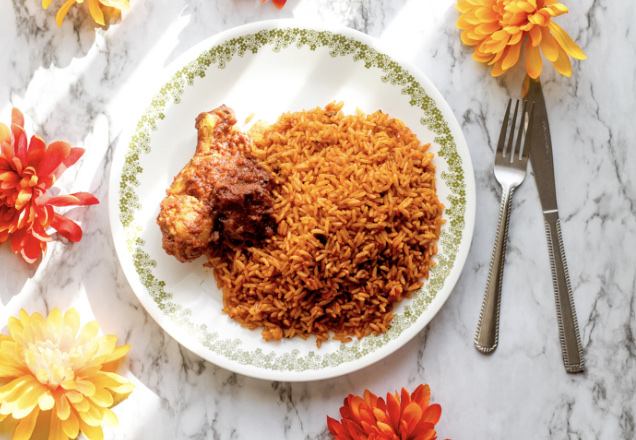 Nigerian jollof rice is a common sweet delicacy in Nigeria and almost loved by anyone who tastes it. This delicacy is generally popular because of it's usage in Nigerian parties and ceremony. Today, I will be teaching you how to cook a very tasty Nigerian jollof rice;
Ingredient for cooking Jollof Rice
• Some cups of rice
• Fresh and paste tomato
• Onions
• Crayfish
• Pepper & salt to taste
• Seasonings (curry & Co)
• 2 Cubes of Maggi
• Groundnut oil
• Fish/ meat
Method of cooking Jollof Rice
• Get a pot and boil your water with it on fire, when the water boils wash in your rice for parboiling. When the rice parboils, bring it down and drain off the water with a basket and keep aside
• Cut your fresh tomatoes and blend it. Also cut your onions and keep aside
• Get a dry pot and pour in a reasonable amount of vegetable oil but in a small quantity, wait for the oil to heat up before you can put in your sliced onions.
• Fry the sliced onions until it turns golden brown, put in your blended fresh tomatoes and also add your paste tomatoes, stirr the mixture so that the tomatoes won't get burnt.
• Add a little water to it or you can also the water you used in cooing meat/ fish for the stew and wait for it to boil a little
• While the jollof's stew is boiling, commence the addition of your grounded crayfish, pepper, salt, seasonings ,2 cubes of Maggi and other thing you wish to add.
• Get your parboiled rice and wash it into the stew, you can add a little water to it but don't let the water to be far above the rice. Make sure you stirr the rice very well with the stew.
• Wait for the water in the rice to dry up and then bring it down. Wow!! Your jollof rice is done and ready to be served.