Top Five Most Read Newspapers In Nigeria
|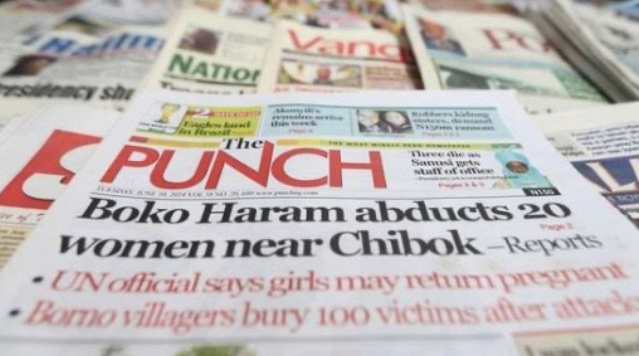 As from the mid 1900s, Nigeria began the use of newspapers. At this time however, they served the purpose of political awareness. Over the years, the printing press had grown and is used in every state in the country.
Although, technology can be seen to have taken over the world thereby bringing information to one's doorstep in the comfort of their homes however, printed newspapers are still relevant in the country just as they have always been. Here is a list of the top five most read newspapers in Nigeria.
1. Vanguard Newspaper:
This is a daily Nigerian newspaper. It was established by Sam Amuka – Pemu with three friends and is based in Lagos, Nigeria. It entered the Nigerian market in 1983 with the aim of serving the people through strong commitment to free enterprise, rule of law and good governance.
2. The Guardian:
This is an independent daily newspaper published in Lagos, Nigeria by Guardian Newspaper Limited. It was established in 1983 by late Alex Ibru and Stanley Macebuh. It is known to have set the pace in introducing high quality journalism in Nigeria with excellent editorial content. It first came out as a weekly publication on Sundays and was published on 22nd February, 1983 and by July 4th 1983 started as a daily publication. With the slogan " Conscience nurtured by truth", the newspaper is one of the most read and sought after newspapers in Nigeria.
3. The Daily Sun:
This is a Nigerian daily print newspaper that was founded and published in Kirikiri Industrial Layout, Lagos, Nigeria. The Daily Sun was incorporated on March 29, 2001. It started as a weekly production on January 18, 2001 and as a daily on June 16, 2003. It has the same design and pattern of the UK's popular newspaper, The Sun.
4. The Punch:
This is a Nigerian daily newspaper. It was founded by James Aboderin and Sam Amuka in 1971/1973. It is credited with being the first Nigerian newspaper with a strong political affiliation and interest. And today, it is still one of the most read newspapers in Nigeria.
5. The Nation:
This is a daily newspaper published in Lagos, Nigeria. It was founded on July 31, 2006. According to the paper's website, it stands for freedom, justice and the market economy. It was the first to gain nationwide circulation across the 36 states of Nigeria within two years of operation.