Unity Bank Transfer Code
|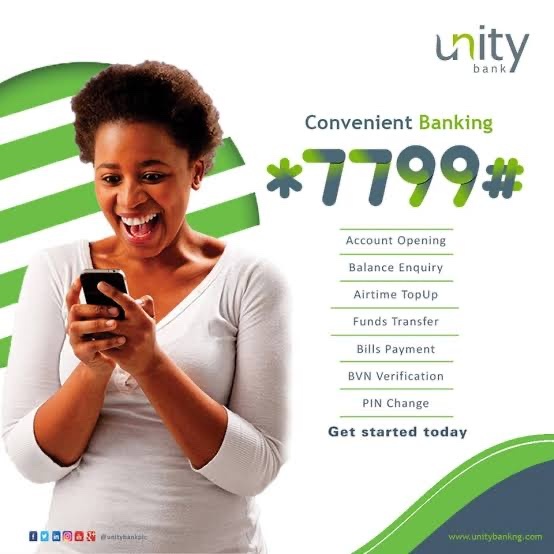 For convenient banking and online with the. Central Bank directives, Unity Bank has adopted the use of USSD transfer code for various transactions for Unity Bank users. The Unity Bank USSD code can be used to transfer money, load airtime, pay bills and so on.
Unity Bank is one of the Financial institutions in Nigeria. Unity bank was founded in 2006 by nine financial institutions with expertise in corporate banking, retail banking and investment banking.
What is Unity Bank USSD Transfer Code?
Unity Bank transfer code is *7799#
To transfer to a Unity Bank account dial *7799*1*Account Number*Amount # for instance *7799*1*1234567890*10000#
To Transfer from Unity Bank to other Accounts dial *7799*2*Account Number*Amount # for instance *7799*2*1234567890*10000#
For Balance enquiry dial *7799# reply with option 1 for balance enquiry
To load recharge card
For self: dial *7799*amount#
For Third party: dial *7799*phone number*amount#
Unity Bank USSD Code transfer limit
The transfer lining for Unity Bank USSD code transfer limit is N100,000 daily.
Unity Bank Charges
Unity Bank will charge you N52 for every transfer made to other banks.