Biography of Aisha Buhari
|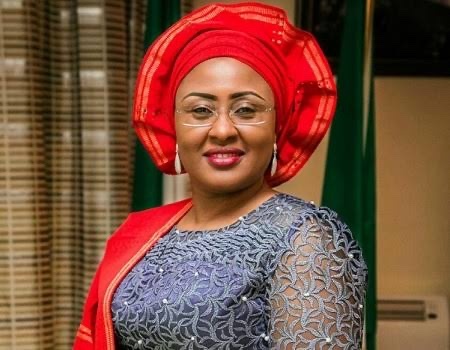 Aisha Mohammadu Buhari was born on 19th February 1971 in Adamawa state. She is the First Lady of Nigeria and wife of President Mohammadu Buhari. Aisha Buhari's grand father was the first Minister of Defence in Nigeria. Her father was a civil engineer while her mother was a descendant of the Ankali Family in Adamawa state.
Educational Background
Aisha Buhari attended her primary and secondary school in Adamawa state. She proceeded to study Public Administration at the Ambrose Ali University (AAU), Edo state. She obtained a masters degree in International Affairs and Strategic studies from the Nigerian Defence Academy (NDA) Kaduna state.
Aisha Buhari holds post-graduate diploma in cosmetology and beauty from Academy Esthetique Beauty Institute of France and a Diploma in Beauty Therapy from from the Carlton Institute of Beauty Therapy, Windsor, United Kingdom.
Career and Businesses
Aisha Buhari operated a beauty salon Hanza Spa in Abuja and Kaduna state till the emergence of Mohammadu Buhari after the 2015 general election. She is a resource person for National Basic Technical Education (NBTE). Aisha Buhari is an author. One of her books Essentials of Beauty Therapy: A Complete Guide for Beauty Specialists is a recommended text for NBTE curriculum.
After the 2015 general election, her husband Mohammadu Buhari was elected and sworn in on 29th May, 2015 as president. Aisha Buhari became the Nigerian First Lady.
Aisha Buhari introduced the Future Assured with aim of advocating for the health and well-being of women and children through community mobilization and health promotion.
Aisha Buhari is a human right activist and an advocate for woman and child right. She is also a critic of child marriage and homo sexuality.
Controversies
In October 2016, Aisha Buhari said President Buhari's government have been hijacked. She said she will not back her husband for a second term race unless he held grip of his government. However, President Buhari while reacting to the statement said his wife belonged to the Kitchen, the living room and the other room. "I don't know which party my wife belongs to, but she belongs to my kitchen and my living room and the other room." President Buhari said
Aisha Buhari vs Fatima Daura
In October 2019, Fatima Daura the daughter of Mamman Daura accused Aisha Buhari of verbally abusing her and attacking her family. Fatima Daura released a video of the First Lady shouting at her at the presidential villa. Fatima said she recorded the video as evidence. Aisha while reacting to the video confirmed she was indeed the one in the video and alleged that Fatima Daura mocked her while recording her. She later apologized to her family and the Federal Republic of Nigeria in a statement through her spokesman, Suleiman Haruna. She said Mamman Daura and his family denied her access to some parts of the presidential villa.
Aisha Buhari vs Garba Shehu
In December 2019, Aisha Buhari accused the Presidential Spokesman Garbage Shehu of undermining her office and destroying her family. She said Garba Shehu has made himself a tool for Mamman Daura and have made a mess of communication in the presidential villa. Aisha Buhari said Garba Shehu has starved the office of the First Lady of funds to run the office and have destroyed her marriage.
Personal life
In 1989, Aisha Buhari got married to  Mohammadu Buhari at the age of 18. They have five children together; Aisha Buhari, Halima Buhari, Yusuf Buhari, Zarah Buhari and Amina Buhari.