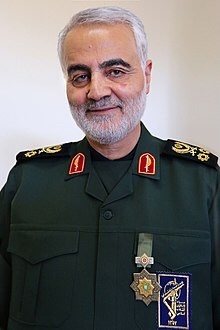 Qassem Soleimani was born on 11th March 1957 in Kerman, Imperial State of Iran. Soleimani's father was a farmer. He had 5 sisters and a brother. Major Gen. Soleimani is a Major General in the Islamic Revolutionary Guard Corps (IRGC) and the commander of the Quds Force ( a division responsible for extraterritorial military and clandestine operations.
Soleimani was described by the United States as the single most powerful man in the Middle East
Career
When Soleimani was of age he moved to Kerman city where he worked as a construction worker. He helped repay all his father's debt. In 1975, he started working for Kerman Water Organization as a contractor.
In 1979, Soleimani joined the Revolutionary War Guard, Islamic Revolutionary Guard Corps(IRGC). The guard saw to the Shah fall and Ayatollah Khomeini take power during the Iranian Revolution. Soleimani while stationed in the North Western Iran participated in the suppression of a Kurdish separatist uprising in West Azerbaijan Province.
Soleimani served as a leader of a military company during the Iran-Iraq war from 1980-1988 after the then President of Iraq Saddam Hussein launched an invasion of Iran. Soleimani rapidly rose in rank because of his bravery his role in the successful operations in retaking the lands Iraq had occupied, eventually becoming the commander of the 41st Tharallah Divisionwhile still in his 20s. After the war in 1990, Soleimani was an IRGC commander in Kerman Province.
Between September 1997 and March 1998, Soleimani was appointed commander of IRGC Quds force. Upon his appointment as commander of the Quds Force, Soleimani helped strengthen the relationship between Quds Force and Hezbolla and supported the latter by sending in operatives to retake southern Lebanon
After the September 11 attacks in 2001, Ryan Crocker. a senior US State Department official flew to Geneva to meet with Iranian diplomats who were under the direction of Soleimani with the purpose of collaborating to destroy the Taliban. This collaboration was instrumental in defining the targets of bombing operations in Afghanistan and in capturing key Al-Qaeda operatives. However, the operation abruptly ended in January 2002, when President George W. Bush named Iran as part of the "Axis of evil" in his State of the Union address.
Soleimani was promoted to the rank of a Major General by the Supreme Leader Ali Khamenei on 24th January, 2011. Khamenei described Soleimani as a living Martyr.
In 2013, Soleimani was rumored to be the likely presidential candidate in Iran. There were speculations that he would be replaced as the commander of Quds Force to enable him run for Iranian President. Soleimani however dismissed the runout and refused to be nominated to contest.
In 2015, a group of conservative bloggers started a campaign for Soleimani to run for Iran president in the 2017 election. There were speculations that he would be the likely candidate. However, however in a statement published on 15 September 2016, he called speculations about his candidacy as "divisive reports by the enemies" and said he will "always remain a simple soldier serving Iran and the Islamic Revolution".
In 2016, photos published by a Popular Mobilization Forces (PMF) source showed Soleimani attending a meeting of PMF commanders in Iraq to discuss the Battle of Fallujah.
In late March 2017, Soleimani was seen in the northern Hama Governorate countryside in Syria, reportedly aiding Major General Suheil al-Hassan repel a major rebel offensive.
CIA chief Mike Pompeo said that he sent Soleimani and other Iranian leaders a letter holding them responsible for any attacks on U.S. interests by forces under their control.
Soleimani played a very important role in the fight against ISIS in Iraq. Soleimani brought together and oversaw the joint operation of the Kurdish and Shia forces to fight ISIS. Soleimani was instrumental to the planning of the operation to relieve Amirli in Saladin Governorate, where ISIL had laid siege. In November 2014, Shi'ite and Kurdish forces under Soleimani's command pushed ISIS out of Iraqi villages of Jalawla and Saadia in the Diyala Governorate.
Soleimani
Death
On 3rd January 2020,an American drone fired a missile on Soleimani's convoy near Baghdad International Airport. The drone strike killed Soleimani and four members of the Popular Mobilization Forces (PMF), including Abu Mahdi al-Muhandis, the Iraqi-Iranian military commander who headed the PMF.
Soleimani's remains was identified using a ring wore while DNA test is pending. Iranian Prime Minister said Soleimani was bringing Iran's response to a letter that Iraq had sent out on behalf of Saudi Arabia in order to ease tensions between the two countries in the region. He was posthumously promoted to the rank of a Lt. General.
The United States Government justifying the action focused on both his past actions and a deterrent to his future action. The strike was not approved by the U.S. Congress or consented to by the Iraqi government, leading to controversy regarding the legality of killing an Iranian military leader in Iraqi territory.
On 4th January, 2020 a funeral procession was held in honor of Soleimani in Baghdad. The attendance was massive. On 5th January, 2020 Soleimani's remains arrived Ahvaz, and then Mashhad.
Soleimani is considered a hero and martyr in Iran. He was the first man to be honored with a multi-city funeral in history of Iran and his funeral procession was the second largest after that of Ruhollah Khomeini.
On 6 January, the body of Soleimani and other casualties arrived at the Iranian capital Tehran. Huge crowds, reportedly hundreds of thousands or millions, packed the streets. Iranian Supreme Leader Ali Khamenei.