Top 10 most warring country in Africa
|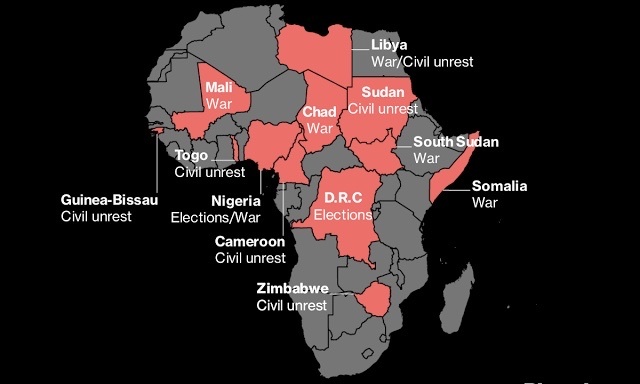 Many countries in world encounter series of challenges ranging from revolutions, terrorist attacks, civil wars, communal clashes and so on. Africa is also not left out in some of these crisis that disrupts peace in most countries. Today contents101 will highlight top 10 most warring countries Africa. According to the Global Peace Index, these are the top 10 most warring countries in Africa.
1. South Sudan (3.526)
Peace is South Sudan seems to be a mirage. South Sudan have been in humanitarian crisis following four years of civil war. South Sudan are in need of urgent aid as they face severe hunger, lack of water and sanitation.
2. Somalia (3.300)
Somalia has experienced prolonged drought, violence and insecurity. In addition to the demons which have killed over 260,000 Somalians, there is also armed violence and political insecurity in Somalia placing Somalia on the chart of top most warring countries in Africa
3. Central African Republic (3.296)
Civil war involving the Government, rebels from Seleka Coalition and Anti Balaka militia is the major factor affecting peace in Central African Republic. The crisis is a religious crisis between Christian Anti Balaka and Muslim Seleka.
4. Libya (3.285)
Following the death of the former president of Libya Mahmar Gadafi, that led to a civil war that have lasted from 2011 till date, Libya has been one of the most dangerous places to travel to in Africa.
5. Republic of Congo (3.218)
Democratic Republic of Congo is experiencing a massive refugee crisis and a spillover from the 1994 genocide in Rwanda. In addition Congo is battling with the Ebola Crisis.
6. Sudan (2.995)
There have been massive protests on the streets of Sudan over a major shift of power in Sudan. After a Coup d'etat disposed Sudan president President Omar al-Bashir of power after 30 years , there have been continued civil disobedience in the past 10 months.
7. Nigeria (2.898)
Nigeria despite being the giant of Africa seems not have peace. Nigeria faces the challenge of Boko Haram terrorist group in the North Eastern region of Nigeria. There is also Fulani herdsmen- Farmers clash as well as Niger Delta Militants in the South South region of Nigeria.
8. Mali (2.710)
A Coup d'etat in 2012 has caused a major political crisis in Mali and rebellion from the Northern region of Mali. The escalating violence and insecurity as well as communal crisis is drifting Mali into a major humanitarian crisis.
9. Cameroon (2.538)
There is currently an ongoing civil war in Cameroon. The Civil war which started in 2016 and is still ongoing has been a major challenge in the Southern region of Cameroon who wish to secede from Cameroon. Cameroon also has a share of the Boko Haram crisis.
10. Chad (2.522)
The Lake Chad basin has been experiencing series of humanitarian crisis conflict, rapid population growth and severe vulnerability caused by the effects of climate change, environmental degradation and poverty. Chad has a challenge of the Boko Haram terrorist group which has killed over 27,000 people