Biography of Bukola Saraki, Career and Personal life
|
Olubukola Abubakar Saraki was born on 19th December, 1962 in London, United Kingdom to the family of Olusola Saraki and Florence Morenike Saraki. Saraki is a Nigerian medical doctor, Politician and a former Senate President of Nigeria. He was also the Governor of Kwara State from 2003 to 2011.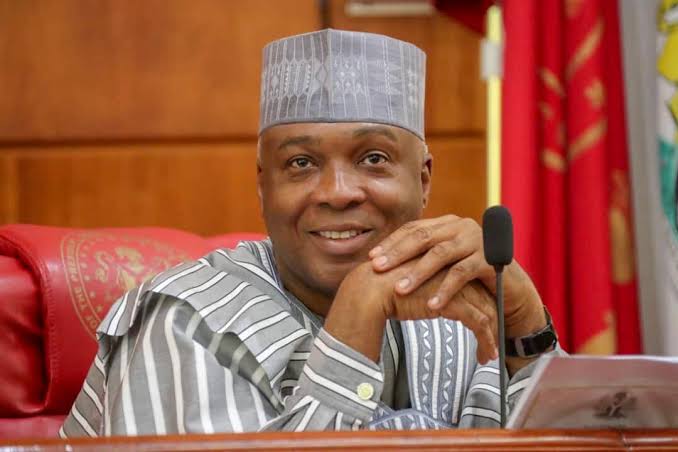 Educational background
Bukola Saraki obtained his Secondary School Examination Certificate Examination (SSCE) from King's College, Lagos in 1988. Saraki proceeded to Cheltenham College, London, from 1979 to 1981. He studied at the London Hospital Medical College of the University of London, from 1982 to 1997 when he obtained his M.B.B.S (London).
Career
Before Saraki ventured into politics, he worked as a medical officer at Rush Green Hospital , Essex , from 1988 to 1989. He proceeded to become a director of Société Générale Bank (Nig) Ltd in 1990.
In 2000, Bukola Saraki ventured into politics and was appointed Special Assistant on Budget Issues by the former President Olusegun Obasanjo. He initiated the Fiscal Responsibility Bill during his tenure and also served on the Economy Policy Coordination Committee.
In 2002, Saraki picked up nomination form to run for Kwara state governor under the platform of Peoples Democratic Party (PDP). He contested and won the 2003 gubernatorial elections in April 19, 2003. He was sworn in as Governor of Kwara State on May 29, 2003.
Saraki ran for a second term bid under PDP in 2007. He was re-elected April 14, 2007 and sworn in for a second time as governor of Kwara State on May 29, 2007. Upon reflection, Saraki became the Chairman of Nigerian Governors Forum.
In 2011, Saraki ran to represent Kwara Central in the Nigerian senate. He was elected as a Nigerian Senator. Saraki succeeded his sister Gbemisola Saraki. Saraki was appointed Chairman of the Senate Committee on Environment and Ecology and is also a member of the Senate Committee on Capital Markets and Finance.
During his first term as a Senator, Saraki moved a motion to end the fuel subsidy regime in Nigeria, which he described as an excessive waste of the country's national resources. Other bills sponsored by Saraki include the National Oil Spill Detection and Response Agency Amendment Bill 2012, the Gas Flaring Prohibition Bill 2012 and the Climate Change Commission Bill 2013.
In 2014, Saraki decamped from People's Democratic Party (PDP) to join the All Progressive Congress (APC). He picked a nomination form for a second term in office. Saraki won the 2015 gubernatorial poll and was sworn in for a second term in May 29th, 2015.
Upon election Saraki went against party decision to run for President of the Senate. He was elected as a senate president on June 9, 2015 by an across the party alliance comprising PDP and APC Senators while Ike Ekweremadu was appointed as his Deputy.
The Nigerian Senate under Saraki's administration passed 201 bills and cleared 138 public petitions.
On 31st July, 2018 Saraki defected from APC to Peoples Democratic Party(PDP) He blamed his defection on intolerance of the influential persons of his former party.
Saraki picked up nomination form to run for President in the 2019 general election under the platform of the Peoples Democratic Party (PDP). He lost in the primaries to former Vice President Atiku Abubakar. He was later appointed the Chairman of Atiku Campaign Organization.
Saraki ran for a third term in office but lost his seat to Dr. Ibrahim Oloriegbe of the All Progressive Congress(APC).
Achievements
While Saraki was governor, Kwara became the first state to complete the Nigeria Independent Power Project. In collaboration with the Power Holding Company of Nigeria , Saraki re-energised the Ganmo Power Station at Ilorin , and connected over 3750 rural communities to the national grid through the development and installation of 725 transformers and 7 substations.
Saraki introduced new health programmes, including a statewide campaign in 2008 to reduce maternal and child mortality from malaria.
Saraki introduced agricultural policy reforms to increase the commercial viability of farming, and also the volume of exports to international markets.
Saraki led significant and statewide infrastructure development, including improvements at the Ilorin International Airport Cargo Terminal, extensive road construction, and development of new sporting facilities.
Controversies
After Saraki was named in the Paradise papers allegation by the International Consortium of Investigative Journalism in November, 2017, The Code of Conduct Bureau cited an initial 13-count charge of corruption, later increased to 22 charges against Saraki.
The allegations cited that Landfield International Developments Limited and Renocon Property Development Limited were controlled by Bukola Saraki which at that time was not included in his official asset declaration.
An official of the Code of Conduct Bureau, Peter Danladi, stated in a court affidavit that the investigation of the various petitions of corruption, theft, money laundering, among others, against Saraki in 2010, was conducted jointly by the officials of the EFCC, CCB and the DSS.
However, on Wednesday, 14 June 2017, the Code of Conduct Tribunal (CCT) sitting in Abuja discharged and acquitted Saraki, in the 18 count charge of corruption in the false declaration of assets charge brought against him in September 2015 by the federal government.
In April 2018, Saraki was implicated in the Offa Bank Robbery which left over 30 people dead. Saraki was invited by the police but was however cleared of all charges.
Personal life
Bukola Saraki is married to Toyin Saraki (née Ojora) Saraki. They have four children together.