Biography of Toke Makinwa; Career and Net Worth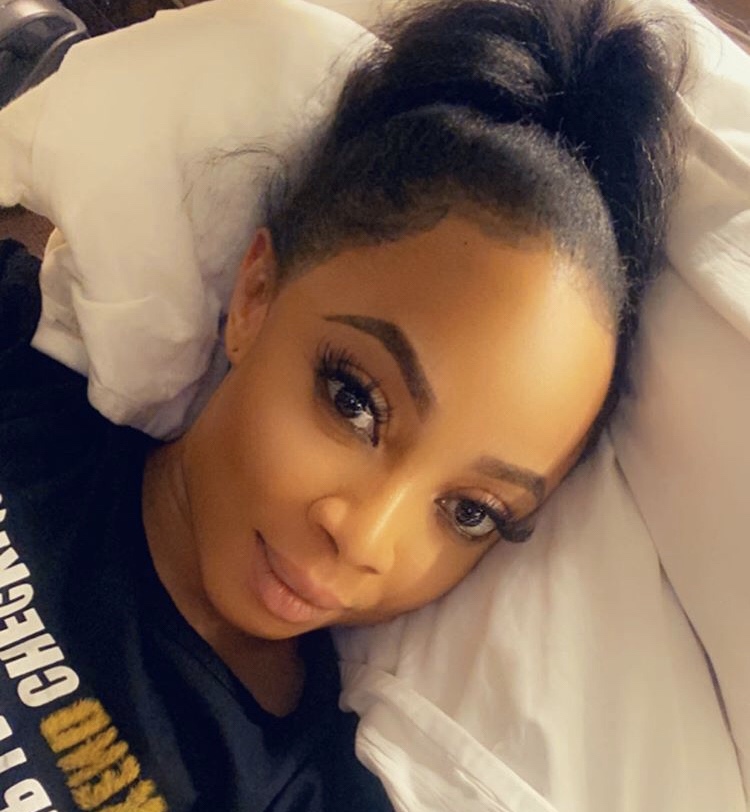 Toke Makinwa is a Nigerian vlogger, radio personality, TV host, author and entrepreneur. She was born on 3rd November 1984 in Lagos State Nigeria. She lost both parents to a fire accident abt the age of 8. Toke Makinwa is popular for her vlog on YouTube "Toke's Moments" and hosting The Morning Drive on Rythm FM.
Educational Background
Toke Makinwa obtained her O'Level certificate from the Federal Government Girls' College, Oyo State before proceeding to University of Lagos to study English and Literature.
Career
Toke Makinwa hit the limelight in 2010 after making her first media debut at Rhythm FM. She co-hosted The Morning Drive show.
In 2012, Toke Makinwa was the host of "The Most Beautiful Girl in Nigeria" (MBGN), the most prestigious beauty pageantry in Nigeria. The event was broadcasted live across Nigeria. She later joined Flytime TV as a co host of 3 Live Chicks alongside Tosyn Bucknor and Oreka Godis. Makinwa launched her vlog series Toke's Moments on YouTube the same year.
In 2014, Toke Makinwa became Hip Hop World Magazine host for its interview and talk series Trending. She was also a co host for Ebonylife TV flagship show Moments.
She also hosted the 2014 Headies Award as well as the Future and City People Awards.
In 2016, Toke Makinwa released a memoir for her book 'On Becoming'. She went on a book tour across Nigeria, South Africa, the U.S, the U.K, and parts of East Africa to promote her book which talked about her struggles and the betrayal of her ex husband.
In 2017, Toke Makinwa launched her own handbag line under Toke Makinwa luxury.
In 2018, she launched Glow by TM, a skincare product.
Toke Makinwa Net worth
Toke Makinwa is one of the richest radio hosts in Nigeria. Her net worth is estimated to be $2million.
Awards and Endorsements
In 2013,Toke Makinwa won the Outstanding Female Presenter of the Year in the 2013 Nigeria Broadcasters Awards.
In 2013, Toke Makinwa alongside Osas Ighodaro, Dare Art Alade and Dan Foster became an ambassador for United Africa Company of Nigeria. She was also the new face of Maggi after a Multi Million Naira contract with Nestle.
In 2016, she became the brand ambassador for face of Mecran Cosmetics. She was also a brand ambassador for Payporte and Ciroc.
In 2017, she won the Style Influencer of the Year in the 2017 Glitz Award. She was named by Avance Media as the Most Influential Young Nigerian in Media.
In 2018, Toke Makinwa was named by Africa Youth Award as one of the 100 Most Influential Young Africans.
Controversies
Toke Makinwa received a lot of backlash and trolls after she discussed her bleaching journey in her book "On Becoming". Makinwa in her book said she bleached to bring light to her journey.
In 2018, Toke Makinwa went for fibroid surgery as well as plastic surgery to enhance her looks.
In 2020, Toke Makinwa shared photoshopped nude pictures of her. According to Toke Makinwa, a blackmailer sent her the photoshopped nude pictures with the intention of blackmailing her.
Personal life
Toke Makinwa got married to Maje Ayida on 15th January, 2014. However in 2015, Toke Makinwa separated from her husband for impregnating his ex girlfriend. The marriage was dissolved in October 2017 by the Lagos High Court on the grounds of adultery.