Biography of Umaru Musa Yar'Adua
|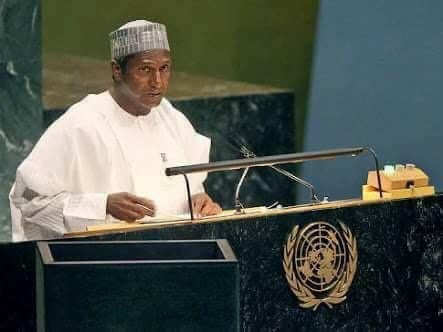 Umaru Musa Yar'Adua was born on 16th August, 1951. He was born into a titled Fulani family in Katsina. His father, Musa Yar'Adua, was a Minister for Lagos in the First Republic and held the chieftaincy title of Matawalle (or custodian of the royal treasury) of the Katsina Emirate, a title which Yar'Adua inherited.
Educational Background
Umaru Musa Yar'Adua started his education at Rafukka Primary School in 1958, and moved to Dutsinma Boarding Primary School in 1962.
He attended the Government College at Keffi from 1965 until 1969. In 1971 he received a Higher School Certificate from Barewa College.
He attended Ahmadu Bello University in Zaria from 1972 to 1975, where he obtained a B.Sc. degree in Education and Chemistry, and then returned in 1978 to pursue an M.Sc. degree in Analytical Chemistry.
Career
Before he ventured into politics, he first worked at Holy Child College in Lagos (1975–76). He later served as a lecturer at the College of Arts, Science, and Technology in Zaria, Kaduna State, between 1976 and 1979.
In 1979, he began working as a lecturer at College of Art Science, remaining in this position until 1983, when he began working in the corporate sector. In this sector, Yar'Adua worked at Sambo Farms Ltd in Funtua, Katsina State, as its pioneer General Manager between 1983 and 1989.
He served as a Board Member of Katsina State Farmers' Supply Company between 1984 and 1985, Member of the Governing Council of Katsina College of Arts, Science and Technology Zaria and Katsina Polytechnic between 1978 and 1983, Board Chairman of Katsina State Investment and Property Development Company between 1994 and 1996. He also served as a director of many companies, including Habib Nigeria Bank Ltd, 1995–99; Lodigiani Nigeria Ltd, 1987–99, Hamada Holdings, 1983–99; and Madara Ltd, Vom, Jos, 1987–99. He was Chairman of Nation House Press Ltd, Kaduna, from 1995 to 1999.
During the Second Republic (1979–83), Yar'Adua was a member of the leftist People's Redemption Party and during the transition programme of General Ibrahim Babangida to the Third Republic, Yar'Adua was one of the foundation members of the Peoples Front of Nigeria, a political association under the leadership of his elder brother, the late Major-General Shehu Musa Yar'Adua. That association later fused to form the Social Democratic Party. Yar'Adua was a member of the 1988 Constituent Assembly.
He was a member of the party's National Caucus and the SDP State Secretary in Katsina and contested the 1991 Governorship election, but lost to Saidu Barda, the candidate of the National Republican Convention and an ally of Babangida.
However, in 1999, Yar'Adua won the state governorship and was the first governor to publicly declare his asset. His administration as a governor was filled with various developmental projects.
He went on to establish Sharia law making Katsina the 5th northern state to do so. Yar'Adua also delivered on his promise of running an efficient public administration, with corruption significantly hampered. He was later re-elected in 2003.
On 16–17 December 2006, he was chosen as the presidential candidate of the ruling PDP for the April 2007 election. After winning the nomination, Yar'Adua chose Goodluck Jonathan, governor of Bayelsa State, as his vice-presidential candidate.
In the presidential election, held on 21 April 2007, Yar'Adua won with 70% of the vote (24.6 million votes) according to official results released on 23 Apri although the election was highly controversial. He became the 13th President of the Federal Republic of Nigeria.
Yar'Adua's Death
His presidency was however short lived as President Yar'Adua left Nigeria on 23 November 2009, and was reported to be receiving treatment for pericarditis at a clinic in Saudi Arabia.
On 10 February 2010, the Senate controversially used the "doctrine of necessity" to transfer Presidential Powers to Vice President Goodluck Jonathan, and declared him Acting President, with all the accompanying powers, until Yar'Adua returned to full health.
On 24 February 2010, Yar'Adua returned to Abuja although still sick. Later that year, Yar'Adua died on 5 May at the Aso Rock Presidential Villa. An Islamic burial took place on 6 May in his hometown in Katsina.
Personal life
Yar'Adua married Turai Umaru Yar'Adua of Katsina in 1975 and they had seven children (five daughters and two sons) and several grandchildren. He also married Hauwa Umar Radda from 1992 to 1997, and had two children bringing the total number of his children to 9