Apostle Suleman Biography; Career and net worth
|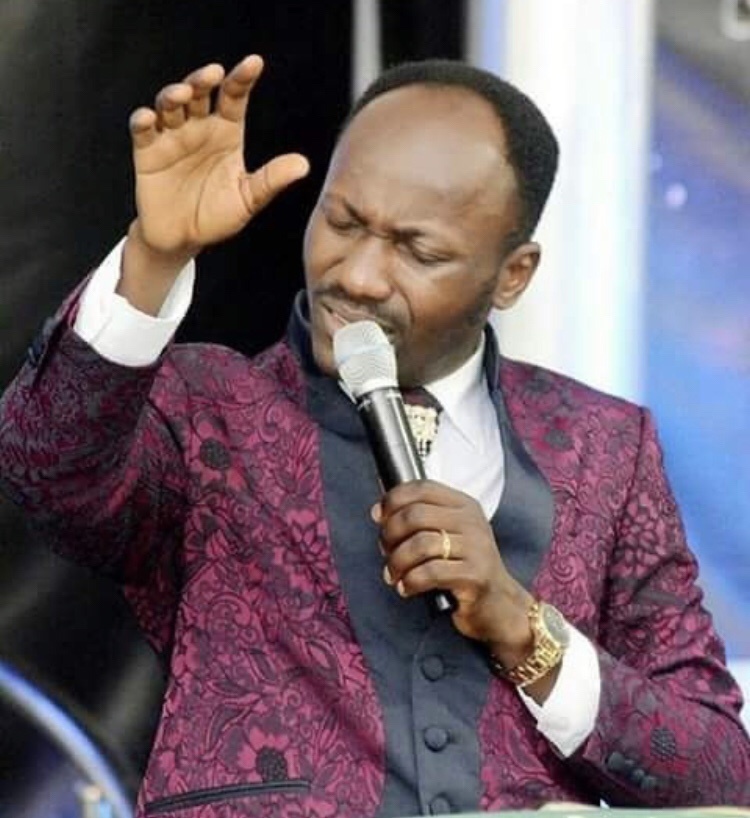 Apostle Johnson Suleman is a Nigerian televangelist and he is the general overseer and senior pastor of Omega Fire Ministries International which was founded in 2004. Apostle Johnson was born on the 24th March, 1971 to Mr. Imoudu Sule. He hails from Auchi in Edo State Nigeria but was born in Benin to Muslim parents.
Career
At birth, it was said that prophets came to his house to tell the prophets that he is to become a prophet of God but this was discarded by his parents who were Muslims.
However, at an early age, while he was in Auchi his hometown for his secondary school education, he met Christ and gave his life to spreading the gospel. He is a trained mass communicator and has a Doctor of Philosophy in Human Resource Development.
On June 20th, 1994, he had a revelation; the image of the globe was being given to him with Acts 10:38 written on it. His ministerial work however, began in the Armor of God Church, Lagos, which he joined in April 1998 and there he served as an Assistant Pastor.
From there after series of encounters from God, he went on to found the Omega Fire Ministries International in 2004. His church believes in the fire operation of the Spirit of God that refines, purifies and equally destroys.
The church has a global reach as messages are distributed through Facebook as well as a 24-hour Christian television channel called Celebration TV and its radio counterpart a 24-hour Christian radio station, "Voice of Fire Radio".
His church is headquartered in Auchi, Edo state, Nigeria with branches in United States, Ghana, South Africa, Turkey and many other countries of the world. The church's International headquarters is also a hub of many entrepreneurial pursuits as the grounds have restaurants, a printing press and numerous other employment creating ventures present.
Apart from being a pastor, he is also a writer and has written over twenty bestselling book.
Controversies
In March 2017, a Canadian based Nigerian singer Stephanie Otobo accused Apostle Suleman of being in a romantic relationship with her. She accused Suleman of promising to marry her.
Otobo said Suleman got her pregnant after romantically being involved with her.
Stephanie Otobo releases pictures of her and Apostle Suleman as well as screenshots of their chats on FaceTime.
Suleman denied the accusation. He said the images were fabricated and had nothing to do with him. He said Otobo cane to her in search of spiritual and financial assistance. He added that he had never been with Otobo in the same room alone.
Suleman accused Otobo of being a member of a gang responsible for blackmailing and extorting prominent people.
Stephanie Otobo was arrested and detained in Kirikiri prison for 1week while trying to withdraw money sent to her by Apostle Suleman. She was granted bail and secured her release with N100,000.
Stephanie Otobo sued Apostle Suleman through her Counsel Festus Kayamo for $5 million for false imprisonment, assault and battery, as well as a whole range of other things he had allegedly done to her.
On the other hand Apostle Suleman filled a N1 billion suit against Stephanie Otobo for defamation of character.
Stephanie Otobo later visited Apostle Suleman in his church to offer a public apology for the troubles she might have caused him
Apostle Suleman Net Worth
Apostle Johnson Suleman is one of the richest Nigerian pastors with an estimated net worth of $1.2 million. He is also among the few Nigerians that own private jets. He acquired his private jet in April 2019.
Personal life
Apostle Johnson Suleiman is married to Reverend Lizzy Johnson and their marriage is blessed with five children, four girls and a boy.