Tony Elumelu Biography, Career and Net Worth
|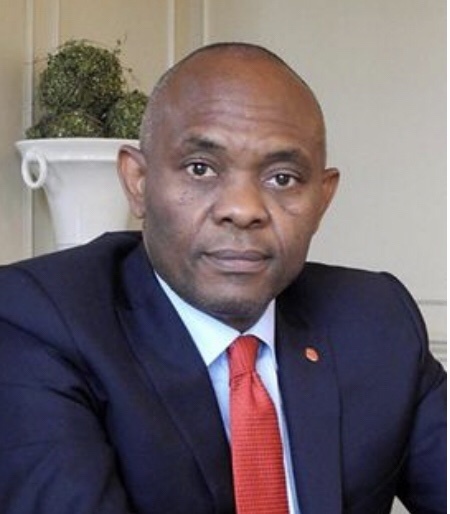 Anthony Onyemaechi Elumelu was born on 4th March 1963 in Jos, Plateau State to the family of Dominic Elumelu and Suzanne Elumelu. He is a Nigerian economist, entrepreneur, businessman, philanthropist and the chairman and founder of Heirs Holdings, United Bank for Africa (UBA) and Tony Elumelu Foundation.
Tony Elumelu is a native of Onicha-Ukwu in Aniocha North Local Government Area of Delta State. He has four siblings including Ndudi Elumelu. He is also a cousin to popular Nigerian reggae artist Ras Kimono.
Educational Background
Tony Elumelu holds a degree in economics from the Ambrose Ali University, Ekpoma and a masters degree in economics from the University of Lagos. He is also an alumnus of Business Schools of Harvard, USA, The International Institute of Management Development (IMD), Lausanne, Switzerland and Singapore Institute of Management (SIM).
Career
After graduation from school Tony Elumelu proceeded for his compulsory National Youth Service Corp (NYSC) in 1985. He worked with Union Bank of Nigeria.
After his Youth services Tony Elumelu became a salesman. He was later hired as an analyst for Allstates Trust Bank at the age of 27 despite not reaching the minimum requirement for the Job.
Within 12 months Tony Elumelu was the youngest branch manager in the banking sector then.
In 1997, Tony Elumelu led a group of small investors to acquire Crystal Bank, which was struggling then. This gave birth to Standard Trust Bank. Tony Elumelu turned the bank into a profitable business.
In 2005, Standard Trust Bank merged with United Bank for Africa (UBA), one of the biggest merger in the Nigerian banking industry. Today UBA has subsidiaries in United States, United Kingdom, France and across Africa. Tony Elumelu became the Chairman of UBA till 2010.
In 2009, he served in the Presidential Committee on the Global Financial Crisis.
In 2010, Tony Elumelu founded Heir Holdings, a family owned investment company with businesses across power, financial services, oil and gas, hospitality, real estate, and health care sectors.
Later in 2010, he founded the Tony Elumelu foundation, an African non-profit organization with the aim of supporting young entrepreneurs across Africa.
In 2011, Heir Holdings acquired a controlling shares at Transnational Corporation of Nigeria Plc (Transcorp), a diversified conglomerate with strategic investments and core interests in the hospitality, agribusiness and energy sectors.
In 2016, Tony Elumelu was the co chair at the 26th World Economic Forum on Africa in Kigali, Rwanda.
Tony Elumelu is an advisor to USAID's Private Capital Group for Africa (PCGA) Partners Forum and a member of the Agricultural Transformation Implementation Council (ATIC). Tony Elumelu is the Chairman and Co-Chair of the National Competitiveness Council of Nigeria (NCCN) and Aspen Institute Dialogue Series on Global Food Security respectively.
He is the chairman of the Ministerial Committee to establish world-class hospitals and diagnostic centres across Nigeria and the Presidential Jobs Board aimed at creating 3million jobs in Nigeria.
Tony Elumelu is a member of the global Advisory Board of the United Nations Sustainable Energy for All Initiative (SE4ALL)
Tony Elumelu is also a writer and have written series of books including How to Excel at Work and The Power of Vision: Insights on Tony Elumelu,
He has written on Africapitalism in publications around the world including The Economist, The Wall Street Journal and The Financial Times.
Awards and Recognition
In 2003, Tony Elumelu was conferred the title of Member of the Order of the Federal Republic (MFR), a national honour by the Federal Government of Nigeria.
In 2006, African Investors Magazine voted Tony Elumelu as the African Business Leader of The Year.
In 2007, Tony Elumelu was voted The Banker of The Year by the Nigerian Magazine, Global Excellence.
In 2008, Nigerian Magazine, Global Excellence voted Tony Elumelu as the Chief Executive Officer of the Year and African banker of the year by African Banker magazine.
In 2012, the Federal Government of Nigeria awarded Tony Elumelu with the National Honour of Commander of the Order of the Niger (CON) for his service in promoting private enterprise.
He was also recognized as Africa's 20 Most Powerful People by Forbes Magazine same year. He was also featured in New African magazine's 100 Most Influential Africans in Business.
He was awarded Honorary Doctorate Degree in Business Administration and Science by the University of Nigeria Nsukka and Benue State University respectively.
In 2013, he was named the Business icon of the year and received the Leadership Award in Business and Philanthropy in the 2013 African Business Awards and Africa-America Institute (AAI) Awards respectively.
In 2015, Tony Elumelu was named "ESI Most Influential Figures in African Power" by the ESI-Africa.
He was awarded the lifetime achievement awards in 2016 as well as Daily times Man of the year award.
In 2017, Tony Elumelu was named the philanthropist of the year by media publisher, Per Second News.
In 2019, he won the The Seven Stars Man of The Year award.
Tony Elumelu philosophy
Tony Elumelu is the originator of Africapitalism philosophy, an economic philosophy which is centered on investment by Africa's private sector aimed at economic transformation of Africa through long-term investments that create both economic prosperity and social wealth.
Personal life
In 1993, Tony Elumelu got married to Awele Vivien Elumelu, a medical doctor. Their union is blessed with seven children.
Tony Elumelu Net Worth
According to Forbes, Tony Elumelu is estimated to worth $900 million. He owns a controlled shares at Transcorp, United Bank for Africa(UBA) and a minority stake at telecommunications company MTN.