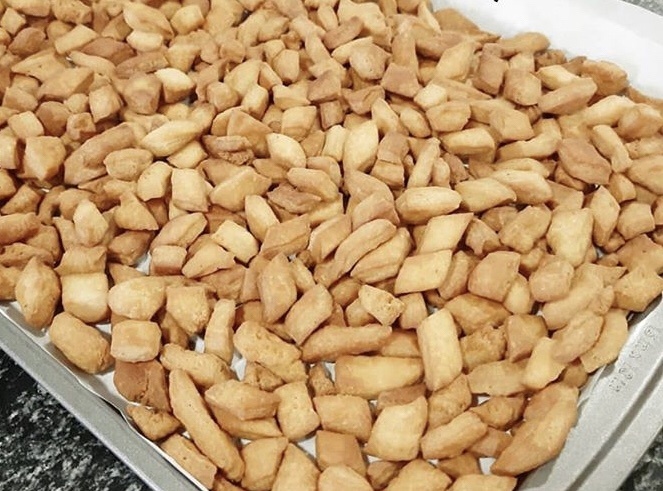 Chin chin is a popular Nigerian snacks that comes in varying styles ranging from the soft ones to the hard cunchy ones. It is one of the major snacks that are shared during occasions. You can always get this from street vendors. However, if you are a lover if chin chin, you can as well prepare it at home. It is easy and less expensive to make. Below is a step by step procedure on how to make chin chin.
Ingredients for making Chin Chin
2 1/4 cups of all purpose flour
1/4 cup of sugar
A pinch of Salt
1/4 teaspoon Baking Powder
1 egg
5 to 6 Tbsp Milk (liquid). If you have powdered milk, then mix it with water then use the required amount.
2 1/2 Tbsp Butter (melted)
Nutmeg
Vegetable oil for frying
How to make Chin Chin
Mix the Flour, baking powder, Sugar, and Nutmeg together in a bowl
Add the Egg, Melted Butter and Milk to the dry mixture and mix together until a dough is formed.
Knead the dough for about 2 to 4 minutes
Roll the dough out into a thin sheet of about a 1/4 to 1/6 inch thickness and use a pizza cutter or a knife to cut the dough into tiny pieces of your choice
Preheat your oil. To know if the oil is good enough to fry, test it by putting just a little dough. If the dough gradually floats to the surface of the oil, then the oil is right for frying.
Deep fry the chin chin until golden brown.
Allow to cool completely before serving. Then enjoy.
Note:
If you want to store your chin chin, allow it cool down completely then store in an airtight container.
If you want your chin chin to be soft with little to no crunch, then add 1 extra tablespoon of butter and an extra 1/4 tsp of baking powder
Also, if you want it hard, don't use egg and the baking powder. This will make your dough very hard but if you find it too hard to work then add about 1/2 to 1 tablespoon of milk to make it workable.
I hope you find this tip helpful.