Biography of Wole Soyinka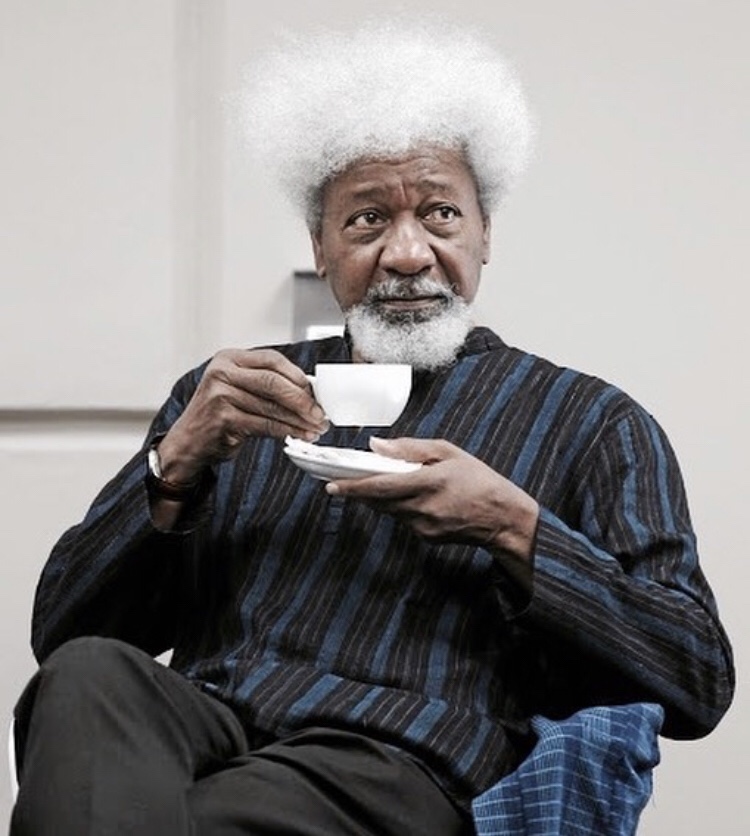 Akinwande Oluwole Babatunde Soyinka, popularly known as Wole Soyinka was born on July 13, 1934 in Abeokuta, Ogun State, Nigeria. He is a Nigerian playwright, poet, essayist and the first African Nobel Price Winner for Literature.
Educational Background
Soyinka attended St. Peter's Primary School (1938-1943). He also attended Abeokuta Grammar School (1944-1945) where he won several prizes for literary essays. In 1946, he gained admission into Government College Ibadan.
Also, in 1952, he began studies at the University College of Ibadan up until 1954. There, he studies English, Literature, Greek and Western History. In 1954, he relocated to England and continued his studies in English at the University of Leeds till 1957.
Career
Upon graduation, Soyinka first became a Play reader at the Royal Court Theatre, London (1957-59). 'The Invention' was his first work to be produced at the Royal Court Theatre in 1957. He however, returned to Nigeria after he received a Rockefeller Research Fellowship in drama from the University of Ibadan. The he worked between 1961-62.
Also, Soyinka served as a lecturer in some of the Nigerian universities. For example, he lectured English at the University of Ife, Ile-Ife (1963-64); was also a senior lecturer in English at the University of Lagos (1965-67). In 1967, he was appointed head of the department of Theater Arts at the University of Ibadan but served from 1969-72. He became a professor of Comparative Literature, and head of the department of Dramatic Arts in the University of Ife, 1975-85.
Also, he was a visiting fellow at several colleges and universities. Among which were: Churchill College, Cambridge, 1973-74; University of Ghana, Legon, 1973-74; University of Sheffield, 1974; Yale University, New Haven, Connecticut, 1979-80; and Cornell University, Ithaca, New York, 1986.
He is also the Founding director of 1960 Masks Theatre (1960) in Lagos, Orisun Theatre (1964) in Ibadan and Unife Guerilla Theatre, Ile-Ife, (1978).
Soyinka was also a co-editor of Black Orpheus (1961-64); and an editor of Transition (later Ch'indaba) magazine, Accra, Ghana (1975-77). He also served as Secretary-General of the Union of Writers of the African Peoples, (1975).
As a writer, Soyinka has written extensively on plays, novels, memoirs, etc. Some of his selected works include:
Plays
Keffi's Birthday Treat (1954)
The Swamp Dwellers (1958)
The Lion and the Jewel (1959)
Madmen and Specialists (1970)
Alapata Apata (2011)
Novels
The Interpreters (1964)
Season of Anomy (1972)
Short Stories
A Tale of Two (1958)
Madamme Etienne's Establishment (1960)
Memoirs
The Man Died: Prison Notes (1972)
Aké: The Years of Childhood (1981)
You Must Set Forth at Dawn (2006)
Poetry Collections
Idanre and other poems (1967)
A Shuttle in the Crypt (1971)
Ogun Abibiman (1976)
Early Poems (1997)
Samarkand and Other Markets I Have Known (2002)
Essays
Towards a True Theatre (1962)
Culture in Transition (1963)
New Imperialism (2009)
Of Africa (2012)
Beyond Aesthetics: Use, Abuse and Dissonance in Africa Art Traditions (2019)
Movies
Kongi's Harvest
Blues for a Prodigal
Controversies
Arrest and Detention
During the civil war in Nigeria, Soyinka appealed in an article for cease-fire. For this he was arrested in 1967, accused of conspiring with the Biafra rebels, and was held as a political prisoner for 22 months until 1969.
Awards
Soyinka over the years has won several awards which includes:
1966: Dakar Negro Arts Festival Award
1967: John Whiting Drama Prize
1973: Honorary D.Litt., University of Leeds
1973–74: Overseas Fellow, Churchill College, Cambridge
1983: Elected an Honorary Fellow of the Royal Society of Literature[66]
1983: Anisfield-Wolf Book Award, United States
1986: Nobel Prize for Literature
1986: Agip Prize for Literature
1986: Commander of the Order of the Federal Republic (CFR).
1990: Benson Medal from Royal Society of Literature
1993: Honorary doctorate, Harvard University
2002: Honorary fellowship, SOAS
2005: Honorary doctorate degree, Princeton University
2005: Conferred with the chieftaincy title of the Akinlatun of Egbaland by the Oba Alake of the Egba clan of Yorubaland. Soyinka became a tribal aristocrat by way of this, one vested with the right to use the Yoruba title Oloye as a pre-nominal honorific.
2009: Golden Plate Award of the American Academy of Achievement
2013: Anisfield-Wolf Book Award, Lifetime Achievement, United States
2014: International Humanist Award
2017: Joins the University of Johannesburg, South Africa, as a Distinguished Visiting Professor in the Faculty of Humanities
2017 "Special Prize" of the Europe Theatre Prize
2018, University of Ibadan renamed its arts theater to Wole Soyinka Theatre
2018: Honorary Doctorate Degree of Letters, Federal University of Agriculture, Abeokuta (FUNAAB).
Personal Life
Soyinka has been married thrice and divorced twice. His first marriage was in 1958 to the late British writer, Barbara Dixon, whom he met at the University of Leeds in the 1950s. Together they had a son, Olaokun. His second marriage was in 1963 to Nigerian Librarian Olaide Idowu, and they had three daughters, Moremi, Iyetade (deceased) Peyibomi, and a second son, Ilemakin. His third marriage was to Folake Doherty in 1989.
Soyinka is a cousin to musician Fela Kuti, the human rights activist Beko Ransome-Kuti, politician Olikoye Ransome-Kuti and activist Yemisi Ransome-Kuti.