Jeff Bezos Biography, Age, Business and Net Worth
|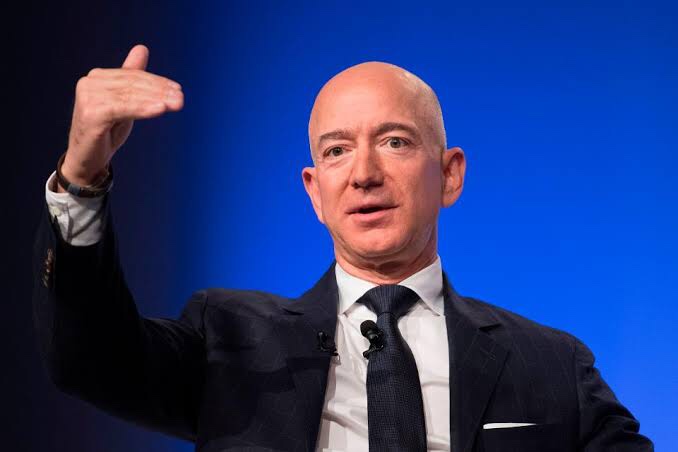 Speaking of the richest man in modern world, Jeffrey Preston Bezos born Jeffrey Preston Jorgensen is an American internet entrepreneur, industrialist, media proprietor, and investor. He was born on January 12, 1964 in Albuquerque, New Mexico, to Jacklyn (née Gise) and Ted Jorgensen. After his parents divorced, his mother married Cuban immigrant Miguel "Mike" Bezos in April 1968 who then adopted Jeffrey and changed his surname to Bezoz. He is best known as the founder, CEO, and president of the multi-national technology company Amazon.
Educational Background
Mike and the family moved to Houston, Texas, where Mike worked as an engineer for Exxon. There, Jeff Bezos attended River Oaks Elementary School in Houston from fourth to sixth grade. They later moved to Miami, Florida, where Jeff attended Miami Palmetto High School in nearby Pinecrest, Florida. He also attended the Student Science Training Program at the University of Florida. While in high school, Jeff was high school valedictorian, a National Merit Scholar, and a Silver Knight Award winner in 1982.
He went on to attend Princeton University where he obtained a Bachelor of Science in Engineering (BSE) in electrical engineering and computer science, graduating with a 4.2 GPA in 1986. While at Princeton, Jeff was a member of the Quadrangle Club. In addition, he was elected to Tau Beta Pi and was the president of the Princeton chapter of the Students for the Exploration and Development of Space (SEDS).
Jeff Bezos Career and Businesses
After Jeff Bezos graduated from Princeton University in 1986, he first worked at Fitel, a fintech telecommunications start-up, where he was tasked with building a network for international trade and was later promoted to head of development and director of customer service. He later left there and became a product manager at Bankers Trust where he worked from 1988 to 1990. He then joined D. E. Shaw & Co, a newly-founded hedge fund with a strong emphasis on mathematical modelling in 1990 and worked there until 1994. While there, at age 30, Bezos became D. E. Shaw's fourth senior vice-president.
In late 1993, Bezos decided to establish an online bookstore. This made him leave his job at D. E. Shaw and founded Amazon which was initially called Cadabra in his garage on July 5, 1994, after writing its business plan on a cross-country drive from New York City to Seattle. He accepted an estimated $300,000 from his parents and invested in Amazon. Three years after he founded Amazon, he took it public with an initial public offering (IPO).
In 1998, Bezos diversified into the online sale of music and video, and by the end of the year he had expanded the company's products to include a variety of other consumer goods. Using the $54 million raised during the IPO, Bezoz financed an aggressive acquisition of smaller competitors. In 2002, Bezos led Amazon to launch Amazon Web Services, which compiled data from weather channels and website traffic. Later that year, due to rapid spending and consequent stagnated revenue, the company almost went bankrupt. This resulted to Bezoz closing distribution centres and laying off 14% of the Amazon workforce. In 2003, Amazon rebounded from financial instability and turned a profit of $400 million. November 2007, Bezos launched the Amazon Kindle. In 2013, he signed a $600 million contract with the Central Intelligence Agency (CIA) on behalf of Amazon Web Services. In October of that year, Amazon was recognized as the largest online shopping retailer in the world.
In May 2016, Bezos sold slightly more than one million shares of his holdings in the company for $671 million and on August 4, 2016, he sold another million of his shares for $756.7 million. A year later, Bezos took on 130,000 new employees when he ramped up hiring at company distribution centers. By January 19, 2018, his Amazon stock holdings had risen to slightly over $109 billion. Due to the growth of Alibaba in China, Bezos has often expressed interest in expanding Amazon into India. So, in March 2018, Bezos dispatched Amit Agarwal, Amazon's global senior vice president, to India with $5.5 billion to localize operations throughout the company's supply chain routes. Today, Amazon is currently the world's largest online sales company, the largest Internet company by revenue, and the world's largest provider of virtual assistants and cloud infrastructure services through its Amazon Web Services branch.
Aside Amazon, Bezoz is also the founder of Blue Origin, a human spaceflight startup company which was founded in September 2000. After its founding, Blue Origin maintained a low profile until 2006, when it purchased a large tract of land in West Texas for a launch and test facility. In September 2011, one of the company's unmanned prototype vehicles crashed during a short-hop test flight. However, in 2015, Bezos announced that a new orbital launch vehicle was under development and would make its first flight in the late-2010s. Later in November, Blue Origin's New Shepard space vehicle successfully rocketed into space and reached its planned test altitude of 329,839 feet (100.5 kilometers) before executing a vertical landing back at the launch site in West Texas. In December 2017, New Shepard successfully flew and landed dummy passengers, amending and pushing its human space travel start date into late 2018.
Since 2016, Bezos has spoken more freely about his hopes to colonize the solar system, and has been selling $1 billion in Amazon stock each year to capitalize Blue Origin in an effort to support this endeavor. In May 2018, he maintained that the primary goal of Blue Origin is to preserve the natural resources of Earth by making the human species multi-planetary. He announced that New Shepard would begin transporting humans into sub-orbital space by November 2018. In July 2018, it was announced that Bezos had priced commercial spaceflight tickets from $200,000 to $300,000 per person.
Bezoz also makes personal investments through his venture capital vehicle, Bezos Expeditions. He was one of the first shareholders in Google, when he invested $250,000 in 1998 which later resulted in 3.3 million shares of Google stock, worth about $3.1 billion in 2017. He also invested in Unity Biotechnology, a life-extension research firm hoping to slow or stop the process of aging. Bezos is involved in the healthcare sector, which includes investments in Unity Biotechnology, Grail, Juno Therapeutics, and ZocDoc.
Awards/Recognitions
In 1999, Bezos received his first major award when Time named him Person of the Year
In 2008, he was selected by U.S. News & World Report as one of America's best leaders
Bezos was awarded an honorary doctorate in science and technology from Carnegie Mellon University in 2008.
In 2011, The Economist gave Bezos and Gregg Zehr an Innovation Award for the Amazon Kindle.
In 2012, Bezos was named Businessperson of the Year by Fortune.
He is also a member of the Bilderberg Group and attended the 2011 Bilderberg conference in St. Moritz, Switzerland, and the 2013 conference in Watford, Hertfordshire, England. He was a member of the Executive Committee of The Business Council for 2011 and 2012.
In 2014, he was ranked the best-performing CEO in the world by Harvard Business Review.
He has also figured in Fortune's list of 50 great leaders of the world for three straight years, topping the list in 2015.
In September 2016, Bezos received a $250,000 prize for winning the Heinlein Prize for Advances in Space Commercialization, which he donated to the Students for the Exploration and Development of Space.
In February 2018, Bezos was elected to the National Academy of Engineering for "leadership and innovation in space exploration, autonomous systems, and building a commercial pathway for human space flight".
In March 2018, at the Explorers Club annual dinner, he was awarded the Buzz Aldrin Space Exploration Award in recognition of his work with Blue Origin.
He received Germany's 2018 Axel Springer Award for Business Innovation and Social Responsibility. Time magazine named him one of the 100 most influential people in the world in their 2018 listing.
Personal Life
In 1992, while working for D. E. Shaw in Manhattan, Bezoz met novelist MacKenzie Tuttle, who was a research associate at the firm, and a year later they got married. However, on January 9, 2019, Bezos and MacKenzie announced on Twitter their intent to divorce after a "long period" of separation. On April 4, 2019, the divorce was finalized, with Bezos keeping 75% of the couple's Amazon stock and MacKenzie getting the remaining 25% ($35.6 billion) in Amazon stock. However, Bezos has all of the couple's voting rights. Bezos and his now ex-wife MacKenzie are the parents of four children: three sons, and one daughter adopted from China.
Jeff Bezos Net Worth
As the first centi-billionaire on the Forbes wealth index, Bezos has been the world's richest person since 2017 and was named the "richest man in modern history" after his net worth increased to $150 billion in July 2018. According to Forbes, Bezos is the first person in history to have a net worth exceeding $200 billion. He is estimated to worth $204.6 billion