Anambra State Governorship Race: Beyond Money, Name and Personality
|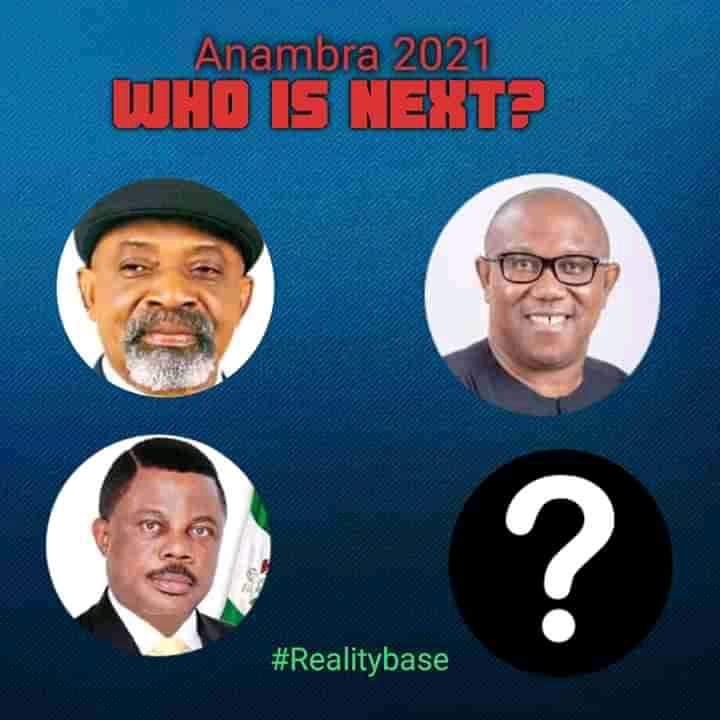 As the race into the government house, Awka, Anambra State come 2021 gathers momentum, it becomes pertinent for Anambra people to take a cursory look at the journey so far to enable them make an informed decision as to who will be at the helm of affairs as the governor. There is no gain saying the fact that Anambra State parades the best and the brightest in virtually every sphere of life ranging from commerce, industry, business, academia, entrepreneurship, politics, etc.
Anambra in every aspect you look at it is the leader of the Igbo race. If Anambra gets it right the rest of Igbo race will follow. This is one of the major reasons why every Igbo person should pick interest in the upcoming Anambra election. Anambra State is the industrial hub of Nigeria. No wonder the slogan of the state is "Light of the Nation ".
In the south east geopolitical zone, Anambra State has produced gladiators like the great Zik of Africa, Dr.Alex Ekwueme, former vice president of Nigeria, Sir Nwafor Orizu, former senate President, Sir Louise Odumegwu Ojukwu, Chukwuemeka Ojukwu, Ikemba Nnewi, and the likes. In the chequered political history of the state, these names have been prominent as the past governors of the state: they are Dr. Chris Ngige, Mr.Peter Obi, today, it is Chief Willie Obiano of All Progressives Grand Alliance, APGA, a party that was formed by Chekwas Okorie and built around the personality of the late Ikemba Nnewi, Chief Emeka Ojukwu.
It is therefore clear that the battle of who clings any political office, especially the governorship position in the state will never be expected to be a smooth one, but highly prolific and competitive anchored on name, money and personality. But this is a mistake Anambra people must not repeat. Anambra needs a dedicated chief servant, not a money lord, expired politician or a godson that will be controlled by his or her godfathers.
This time, the test for who will be a Governor in the Light of the nation should be a simple and single one: someone who will boldly disregard other ethnic forces like Arewa, Afenifere and any other powers or persons and do what is right for our people. Someone who can you move on with Anambra economic and political development without looking over his shoulders wondering whether anyone is angry at you. This was the character Tinubu showed that helped him in building Lagos. Someone who have the capacity and political sagacity to tackle insecurity, pass anti grazing bill, launch our own Amotekun? If we're to tell ourselves the truth, most of those glamouring to govern with entrenched deep political links and expansive business interest will be too politically correct to carry out these radical surgeries.
The above stand was influenced by the recent event that made me to have a rethink. Just of recent l was rooting for Dr. Godwin Maduka, but with the recent revelation coming from no other source than Anambra fearless political amazon, Ekwunife, made me to change my mind.
Senator Uche Ekwunife in a widely covered outing at Awka few days back lampooned Dr Godwin Maduka, a front-runner in the governorship race coming up next year. She bluntly told her audience at GeoGold hotel in Awka that the United States of America based medical doctor believes that he can intimidate other aspirants with his wealth which she promised the audience that he will expose the rotten source of Dr. Maduka's wealth at the right time. She was adamant that Dr. Maduka is disconnected from the people of Anambra state and therefore not a good material that will fly the governorship flag of PDP come November, 2021. In buttressing her points, she wondered why the show of brutal wealth and outright disrespect to other aspirants by Dr. Maduka during the opening of his campaign office near Aroma, Awka. According to Senator Ekwunife, she knows the source of the ill gotten wealth of Dr. Maduka. We know what Doctors who majored in pain treatments do. We know how they manage hard drugs obtained for the treatment of their patients. At the right time, Nigerians will know the source of the wealth he flaunts. She vowed that over her dead body will she allow a hard drug dealer to fly the flag of PDP during the governorship election.
No doubt, this might be a political brick stone being thrown at an enemy by a political opponent. But, politics apart, this calls for caution by anyone that loves Anambra. Let's not be dazzled into Dr. Maduka's display of wealth, making money and leadership aren't the same. Most wealthy merchants who ventured into politics have proven that there's a great wall of difference between the two. Most of them couldn't separate the difference between running their private enterprise and public business.
In this category also falls Dr. Chidozie Nwankwo who is the Chairman/CEO of Wichtech Group, an indigenous company that is into manufacturing and selling of building materials with over 4000 staff members and over 200 agent offices across Nigeria. Mr Godwin Chukwunenye Ezeemo, Mr.Valentine Chineto Ozigbo and most importantly Senator Ifeanyi Patrick Uba. Undoubtedly all these great business achivers have the intellectual capacity and leadership quality to govern Anambra State. But because of their vested political and business interest, they will be naturally busy looking across their shoulders not to offend the powers that be. That's not what Anambra needs now.
The forthcoming governorship election in the state must be different ball game, different from what has been obtained in the past. The People of Anambra should be wary of these obvious facts l pointed above and look for a candidate that has the potential and capacity to give Anambra people the governor of their dream for posterity and socio-economic legacy. A candidate with rooted political and economic interest that's rooted on political godfatherism, money and Abuja cannot achieve this.
In the emerging global trends, leadership has gone beyond material acquisition and personality. Leadership now revolves around vision and reality. Yes, money play a role, but should not be the basic standard to determine who picks party ticket. Anambra people should look beyond sentiment and pick the kind of personality that can radically take the state to the level of mini Dubai, which is suppose to be her right place. And only someone with radical ideas can achieve such. As a result, it is time for a paradigm shift as far as the political leadership of Anambra State is concerned. In order to bring out the very best in the state from the array of gifted human resources that abound in the state, the people must take a critical look at the immediate past to see how they have been able to manage their successes and the abundant human resources God has blessed them with. Believe me, with Senator Uche Ekwunife widely covered outing at Awka that lampooned Dr Godwin Maduka, Maduka is out of the equation. Though am not rushing in judgment, but like they said, "there's no smoke without fire".
There are some other entrants into Anambra politics that we need to consider, while others are well known people within and outside the shores of Anambra. Big masquerades like: Dr.Patrick Ifeanyi Uba, Prof.Chukwuma Soludo,
Engr..Chris Azubogu, Chief Chukwunenye Ezeemo, Dr.Godwin Maduka, Mr.Valentine Chineto Ozigbo, Dr Ifedi Okwenna, Dr. Chidozie Nwankwo, Nze Akachukwu Nwkpo, Chief Chidozie Nwankwo and other heavyweights will be firing all cylinders in 2021.
When you take cursory look at the names of these gladiators, you will notice they're mostly technocrats and full time politicians like Senator Ekwunife and Senator Uba. But with the fight Senator Ekwunife has started with Dr. Godwin Maduka there's going be too much mood and dirty politics between both sides. The battle is going to be so fierce that both of them must have been so destroyed before heading to the Lion House. So the best thing for nde Anambra is to look beyond them.
The Young Progressive Party (YPP) likely candidate Senator Dr Patrick Ifeanyi Ubah (Ebubechukwuzor Nnewi) could have been a better choice, he is youth friendly and has lots of projects scattered across Anambra, especially, now that majority of people that matters in Anambra State are looking towards South. But, handing over the purse of Anambra State to the control of a business tycoon that has billions of debt hanging over his neck will be very fatal. With his properties at the risk of being taken over by AMCON, Senator Ubah will naturally pay himself first, pay his debt and rebuild with Anambra commonwealth before remembering Anambra people. There's no secret about this, it's the natural law of nature.
Still going down to the South, since the All Progressive Grand Alliance(APGA) has zoned its party governorship slot to this particular zone, one could have think that Soludo could have pick it on a platter of gold. Especially, with the rumor going round that he's the candidate of the governor. But that's not the case. For reason that has to do with his attitude towards politics, Prof. Chukwuma Soludo has over the years lost his popularity among Anambra people. His social life is not people oriented, he's not in touch with his people. He lacks the capacity to reach out, if APGA were he has run to in order to hide behind Willy Obiano and sneak to the Lion House gives him ticket, even his Isuofia community might desert him. With one Clinic and one nurse and bad roads, the people have considered his previous position of no use. Even, may looking at the impacts the former Emir of Kano that took over from him made in the northern educational circle, through CBN critical interventions, which Soludo failed woefully to do. Most Igbo politicians are not happy with him. APGA is most likely to lose the general election if the party handover the ticket to him.
But as it stands now, with the right ticket and support of the religious, traditional native political pillars of Anambra to APGA. Firstly, because of the Ojukwu factor, secondly, because it is seen as the Igbo party, with the right candidate, Willy Obiano is most likely to retain the state for APGA.
On this issue of zonning, the deafening silence from the camp of the PDP and APC on their zoning arrangements is not helping the parties. May be because of the party's constitution and other reasons best known to them. But so far, it appears the odds are much in favor of Anambra South.
With the traditional fathers, the religious leaders in support of power moving South, the notable candidates from Anambra South who the religious leaders are silently glamouring to to succeeded Chief Willie Obiano is from Ihiala local government. Though there are other candidates from Ekwusigo, Nnewi North and South, Aguata,Orumba North and South the political temperature is increasingly everyday twithering towards a not too popular horse, Nze Akachukwu Sullivan Nwankpo. The reason may not be far fetched from the qualities he showed while serving Jonathan. His prudence in managing public funds and not abusing public trust seems to have won the heart of the religious establishments, in a state were religious leaders determines election outcome. It will be nice that the powers that be look towards him and try to see those qualities the religious leaders saw in him.
As the race for Agu Awka Government House gets more interesting by the day. Outside Nze Nwankpo there are other good candidates like Dr. Ifedi and some above listed powerful individuals scattered across Anambra South and Central who have shown keen interest to govern Anambra state come 2021. But, truth be told, it would be unfair for Anambra North to throw up any candidate because the incumbent Chief Willie Obiano is from this particular zone and he's enjoying an uninterrupted two tenure which will elapse in 2022. Going further, any candidate from Anambra Central may not be having a smooth sail because the zone has tasted power for an uninterrupted eight years, whilst the South clamour for power shift to its zone for equity sake. This instantly gives Anambra South Senatorial zone an upper hand in the forthcoming polls. Since among the candidates glamouring for ticket from the south, the best option so far with lesser political liability seems to be Nze Akachukwu Sullivan Nwankpo.
Going ahead with the Ojukwu political Philosophy the party should look for someone like Chief Nwankpo who is not known to be a money bag nor a die-hard politician but a moderate technocrat who knows his onions. His antecedents speak volumes and he readily fits into the mould of a governor who will continue from where Obiano stop, and take Anambra State to the promised land if given the opportunity.
(For the records, this author has never met Nze Akachukwu before and am sure he will be totally shocked if he comes across this)