Hon. Obieze lauds governor Ugwuanyi's intervention in education
|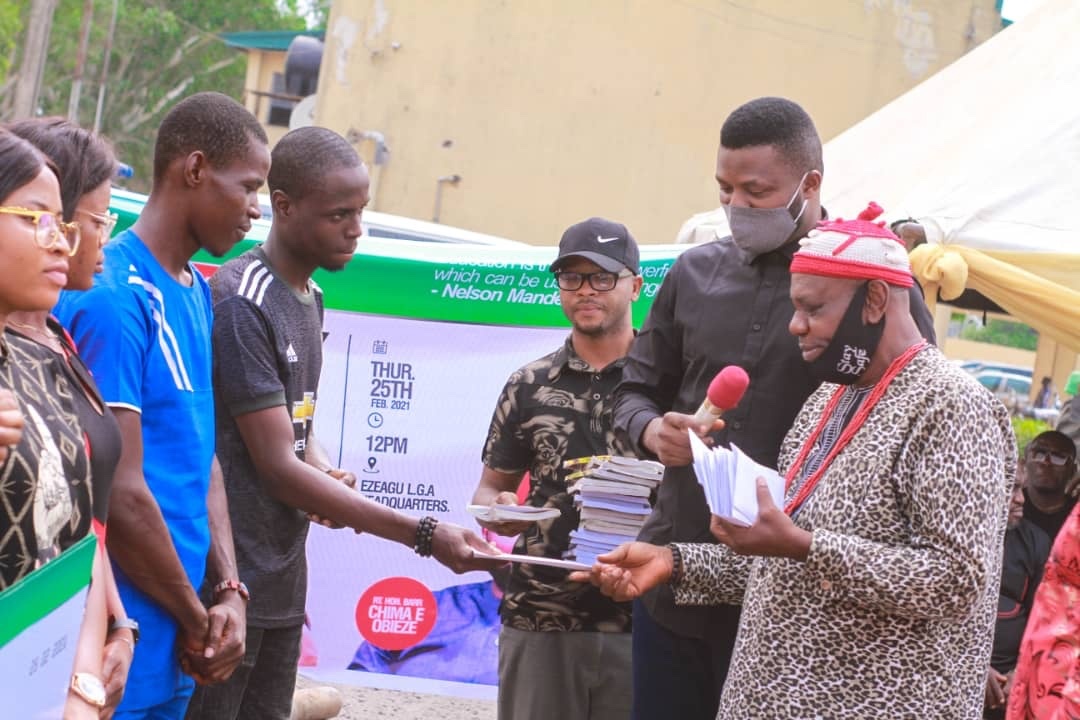 The lawmaker representing Ezeagu constituency in the Enugu State House of Assembly, Rt. Hon. Chima Obieze, has expressed happiness and satisfaction over the intervention programmes of the state government to the student community in the state.
Obieze who stated this on Thursday, 25th February, when through his foundation, gave 51 students Bursary award said; "the administration of His Excellency, Rt. Hon. Ifeanyi Ugwuanyi, the Executive Governor of Enugu state has left no stone unturned in his dire quest to support the student community through his different programs for the students in the state."
He added that "in my little capacity, all I have done today was to compliment His Excellency's efforts in his students' support programs.
"It was a great joy and fulfillment of my sincere purpose cum desire to assist and support these students today.
"This isn't the first or second time we are coming through for students of Ezeagu extraction, neither will it be the last.
"As was mentioned by Rev. Fr. Chibe Offor, I reiterate that This is a tiny seed from my little resource to you and I hope you will utilize it and make it multiply like the 5 loaves of bread and 3 fishes of the Bible.
"As a young man who rose from the slum to the State house, who toiled, hawked, trekked kilometers to school, I completely understand what a token can do in the life of a student. Hence the reason for this my little gesture.
"Once again, congratulations to the beneficiaries of my bursary award through my foundation, Hon. Chima Obieze foundation.
Some of the awardees
"As I promised, this isn't just about the token, but my widow's might is to spur you to do more. I will continue to support and expose you to opportunities within my capacities.
"Getting educated won't make you rich, but will expose you to etiquetts and principles of riches.
"In few months time, we shall unfold more student empowerment programs, Do keep a check on us."
The dignitaries that witnessed the event include: Dr. David O. Ugwunta, the Hon Commissioner for Budget & Planning; Hon. Mike Ogbuke, SPA to the Governor On Agriculture; Hon. Chiloh-Offiah, SPA to the Governor on SME; Barr. Abonyi Uche Levi.
Hon. Obieze exchanging pleasantries with the Commissioner for Budget and Planning
Others are: Rev. Fr. Chibeh who donated his book "33 laws of achievers" to the beneficiaries; the Traditional Rulers of Ihuonyia City and Iwollo Omasi ancient Kingdom, Igwe Ilochi (Evee nge) and Igwe Ralph Okolo(Omasi 1 of Iwollo Omasi); the President-Generals of different Communities in Ezeagu Constituency led by Mr Ejike Moses, Hon. Chukwudi Ani, Ezeagu Council Chairman, Special Assistants to the Governor who came in their numbers.
The Ezeagu PDP Chairman, Ozor Anayo Chiude and various Youth and Women leaders were also in attendance.