The only thing Udom has done for Ibiono Ibom in 8 years is a 3-kilometer road – Lawmaker
|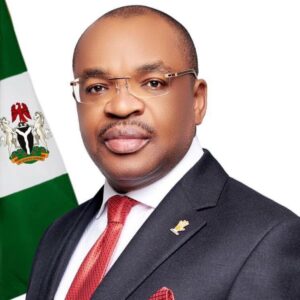 The Member Representing Ibiono Ibom State Constituency in the Akwa Ibom State House of Assembly, Hon. Godwin Ekpo has said the only project that Governor Udom Emmanuel has done in Ibiono Ibom is the 3-kilometers road which leads to the residence of the Paramount Ruler of the local government area.
TheMail Newspaper reports that the lawmaker stated this when the governor's preferred choice for the PDP guber ticket, Pastor Umo Eno visited the local government area for consultation.
Read Also: Man strangles his 8-month-old son to death, dump body in swamp after quarrel with wife
The event took place on Friday at the 'Martha's Forte' residence of the Commissioner for Information and Strategy, Comrade Ini Ememobong in Use Ndon.
Ekpo who is a former Chairman of LG Council said despite supporting the party since 1999, successive administrations in the state have failed in rewarding the LGA's steadfastness to the PDP with developmental projects.
"Ibiono Ibom has been consistent players of PDP. During the time of Obong Victor Attah, our son (Nsima Umoh) contested with him. He almost won but the party said, step down. I still remember when Attah came to campaign here. He said in an open field "Ibiono, please, whatever your son (Nsima Umoh) would have done for you, when I become governor, I will do it for you". You can quote me, Attah is alive. He stayed in office as governor for 8 years, let him point to one thing that he did in Ibiono. These are the truths you must know. 18 years ago, Obong Victor Attah asked Ibiono Ibom people to give him a land so he can build for us a General Hospital. Ibiono with over 400 villages, uptil today we don't have a General Hospital.
"When Godswill (Akpabio) came, we supported him. We gave him maximum support. And of course, he tried his best. Why I commend that man is that he gave us this road: Itak to Oko-Ita to Use-Ikot-Amama. The hype for this road was much, jingles about this road were played on radio and television stations consistently. It was a jingle for Akwa Ibom people. Take a walk, you will see that the road did not get to Use-Ikot-Amama but the whole Nigeria heard that a road was built from Itak to Use-Ikot-Amama. But we still stood firm with the PDP. We will never leave PDP until we are blessed.
Read Also: Elephants 'invade farms, attack villagers in Ogun
"Then came His Excellency, Governor Udom Emmanuel. He said he will do this, he will do that. There is a reason I said that truth, even though bitter must be told, I don't care. He came, he has stayed, this is almost 8 years. The only thing we have gotten now is the road to the Paramount Ruler's house which is 3 kilometers. In 2019 election, this is the local government that gave the highest votes to PDP. But there is nothing to show. The truth must be told that for 8 years, the local government that gave the highest vote to PDP has not gotten one thing. And people believe that we should be very happy and tell government you have done so well. There is no road, nothing is working here, no state presence. No bank in Ibiono. Even the Technical College that was closed down, up till today, it has not been opened and we are told it is work in progress", Ekpo said.
The lawmaker however advocated and beseeched Umo Eno to take more developmental projects to LGAs that would give him the highest votes at the election if he wins the PDP ticket.
"Your Excellency-to–be (Umo Eno), when you become governor, distribute your developmental structure or whatever based on Local Government that will give you the highest votes. That is what Akpan Isemin did. When you look at the faces of Ibiono Ibom people here, I am telling you that they are not happy. I am speaking for Ibiono Ibom people and it will be a disservice if I don't tell you the truth now that you have not been sworn-in so that when you are sworn-in you will remember what Godwin Ekpo told you", Ekpo said.
Meanwhile, in order to avoid a possible witch-hunt of Godwin Ekpo who is gunning for a second term in office over the remarks he made, the Commissioner for Information and Strategy, Ini Ememobong however said that the lawmaker's comment was the position of the stakeholders of the LGA as he was merely speaking on their behalf.
Read Also: After collecting N10.7m ransom, kidnappers promised they won't abduct us in future – Ibadan businessman
"We are a very organized people. Before we came here, we had a meeting. So we had put our heads together, we asked when our visitor (Umo Eno) comes, we know what he will say but what will our response be? People brought ideas and suggestions. It was agreed that Godwin Ekpo who speaks for us in the House of Assembly wasn't meant to speak only in the chambers of the assembly but also at any gathering of Ibiono Ibom people. So, when he spoke, he didn't speak for himself, he spoke for the community (Ibiono Ibom). I'm saying this so that what he has said won't affect his ambition. And all of us who say we love Governor Udom Emmanuel, that is our own position", he said.
Ememobong however thanked the governor for the many political appointments he has given to indigenes of the local government
"But we had also agreed to thank the governor because we are better in some aspects. When it comes to appointments for Ibiono Ibom people, he has done very well", Ememobong said.