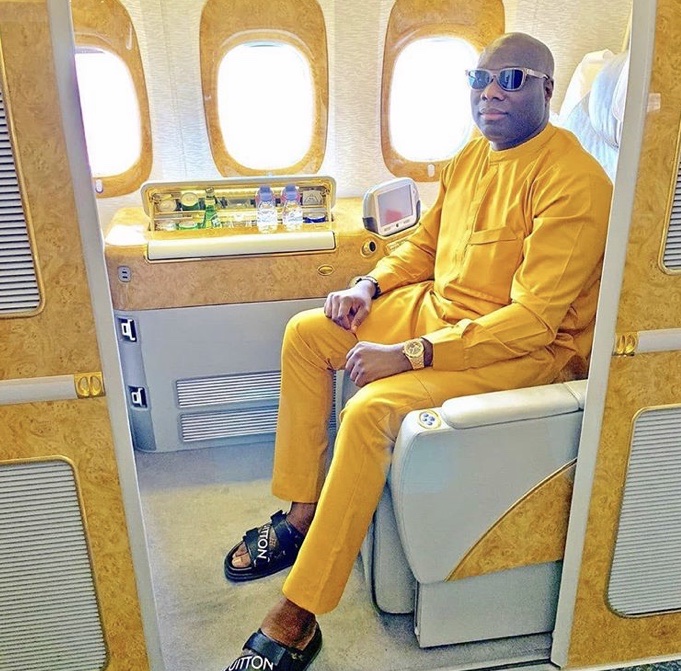 Ismail Mustapha popularly known as Mompha was born on June 16, 1979. Mompha is popularly for his luxurious lifestyle on social media, He has high tastes and often times flaunts cash on social media. He is the Chief Executive Officer of Mompha Bureau De Change located at Bankole Street, Balogun Lagos Island.
Mompha is friends with notable Nigerian celebrities and politicians including Tiwa Savage, Patoranking, Nasir el-Rufai and so many others.
Educational Background
Not much is known about the educational background of Mompha. He attended Government College Ikorodu, Lagos state.
Mompha's Net Worth
Mompha owns series of luxurious cars ranging from Range Rover, latest G-Wagon, Several Mercedes Benz and lots more. He also wears notable brands like Gucci, Louis Vuitton, Christian Louboutin and so on.
Mompha flies only in private jets and first class tickets. Mompha is said to worth millions of dollars.
Mompha Family
Mompha is married to a Muslim woman and has two children, a son and a daughter.
Controversies
Mompha and Ray Hushpupi
Mompha and Hushpupi were said to be good friends till they had a fallout. During the fallout both of them bashed each other on social media. Mompha said Hushpupi's dad is a taxi driver while his mother is a bread seller. He accused Hushpupi of always borrowing money from him and coming to his house with girls in Dubai because he could not afford rent.
Interpol arrests Mompha
In October 2019, controversial Nigerian blogger Kemi Olunloye posted that Mompha was arrested by international police (Interpol). Kemi Olunloye wrote on her instagram
#BREAKING 🇳🇬 Nigerian Bureau De Change King @mompha #Skyman reportedly ARRESTED in Abuja by the International Police @interpol_hq I have left several messages. Pls have patience. I'm an investigative Journalist. Arrest was 3 days ago the same time he posted last a picture of his Lil girl. Interpol should release a statement soon on WHY he was arrested and exact whereabouts and whose custody he's in. The @officialefcc said they will get back to me too. Only good Journalists know about these secret arrests.😲💰💰They must be transparent though #humanrights #civilrights
DETAILS LATER… #KemiOlunloyo