How to Make African Egg Roll
|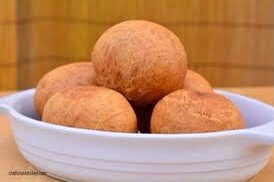 African Egg roll otherwise known as African scotched egg is an African snack. It is easy to prepare and also delicious. It is mostly sold on the streets but can as well be prepared at home and used for breakfast with tea. This delicious snack can be eaten by anyone and at anytime. Below is a simple tip on how to make an African egg roll:
Ingredients for making egg role:
If you want to make 5 pieces of egg roll, here is ingredients for making egg roll
2 cups of flour
1 egg
1tsp of baking powder
1/4 tsp salt
1/2 tsp nutmeg
2 tbsp margarine
8 – 9 tbsp water
5 eggs (boiled)
2 tbsp sugar
1/2 cup of milk (optional)
Vegetable oil (enough to deep fry)
Note: tsp (teaspoon)
tbsp (tablespoon)
Step by Step Procedure of how to make egg roll
Get a large bowl. Mix together the flour, baking powder, salt, sugar and nutmeg.
Use your fingers to blend the margarine into the flour until its crumbly.
Add the beaten egg and milk and mix together.
Add water little by little and knead the dough till it is soft but sticky.
Cover the dough and leave it for about 15 to 20 minutes.
Knead the dough again for about a minute and divide into five.
Tightly wrap each dough around each egg. In doing this however, you must wrap the eggs you are ready to fry because if left for some time, the dough around the egg will continue to rise and loosen around the egg by the time you fry.
Deep fry on a medium heat turning over and over again until it is golden brown. High heat will prevent the egg roll from cooking on the inside.
Serve your egg roll hot or warm with any liquid of your choice.
I hope you find this tip helpful.