Biography of Kechi Okwuchi
|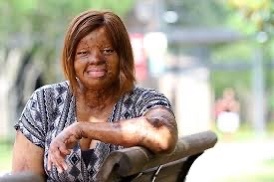 Kechi Okwuchi is a Nigerian-American singer born on 29th October, 1989 in Nigeria. She is one the survivors of the 2005 Sosoliso Airline Flight 1145 crash that killed 107 passengers on board. She was a finalist in the 12th Season of the American got Talent in 2017.
Educational Background
Kechi Okwuchi was a student of Loyola Jesuit College, Abuja before the Sosoliso Airline plane crash which killed 59 students of the Loyola Jesuit College.
In 2009, Kechi Okwuchi resumed high school in Houston, United States. She proceeded to study economics at the University of St. Thomas, Houston, where graduated First Class Hons. in 2015. She is currently an MBA student of University of St. Thomas, Houston.
Sosoliso Plane Crash
On December 10, 2005, a Sosoliso Airline Flight 1145 conveying 109 passengers from Abuja to Port Harcourt crashed killing 107 passengers including 59 students of Loyola Jesuit College traveling for Christmas break.
Kechi Okwuchi received 3rd degree burns. 65% of her body was burnt and was given 30% chance of survival.
While the other survivor died the next day, Kechi Okwuchi was air-lifted to Milpark Hospital in Johannesburg, South Africa for immediate medical attention and treatment, and later to Shriners Hospitals for Children in Galveston, Texas, United States.
Kechi Okwuchi has undergone hundreds of surgery.
Career
Kechi Okwuchi is a motivational speaker and was the the students speaker at her graduation ceremony in 2015. She was also a guest speaker at the TedxEuston where she gave a talk titled 'Girls- know thyself'.
Kechi Okwuchi discovered her talent in music while she was recovering from the Sosoliso plane crash. According to Kechi Okwuchi, throughout the difficult journey of burns recovery, she was sustained by her Christian faith, her family and her music.
In 2017, Kechi Okwuchi participated in the 12th season of the America's Got Talent and finished as one of the finalist in the competition.
In 2019, she participated in America's Got Talent: The Champions in 2019, where Simon Cowell gave her the golden buzzer, sending her straight to the final, but in the final she didn't come in the top 5.
Kechi Okwuchi has performed in series of events including sporting event in United States, South Korea and Nigeria. Okwuchi was chosen to headline Utah's 8th Annual Women of Worth Utah in 2019.