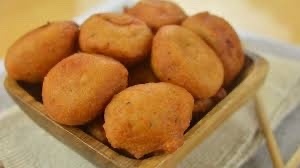 Akara also called bean-cakes or bean-balls is a popular Nigerian snack made with beans. While some may find it hard to take cooked beans, akara just like moi-moi is another way to still enjoy beans in a different form.
It is mostly sold on the streets but you can as well, prepare it at home. It can be taken side by side with custard, pap, bread,oats and even drinking garri. To make akara, you must first remove the beans coat, then soak the beans in water for about 2 hours to make it soft for blending.
However, if you are to use heavy duty grinders like those found in the market, it will not be necessary to soak for that long. Below is a step by step procedure in making akara.
Ingredients for making Akara
1 cup of beans (black-eyed or brown beans)
1 medium sized onion
2 balls of pepper
Salt
Vegetable oil
Equipments for making akara
Blender
Mortar and pestle
Procedure for making Akara
Grind the beans with little water just enough to move the blades of the blender.
Heat up some oil. It must be enough to deep fry. However, the oil should not be too hot.
Put some of the ground beans into a mortar, the quantity you can fry at once and stir with a pestle in a continuous circular motion. This will release gas and act like a rising agent. Stir till the ground beans appear whiter.
Add onions and pepper and stir
Add salt to your taste and stir again
Scoop the mixture with a tablespoon into the oil
Fry till brown and turn over. Remove when the akara balls are brown.
I hope you find this helpful.