Biography of General Sani Abacha
|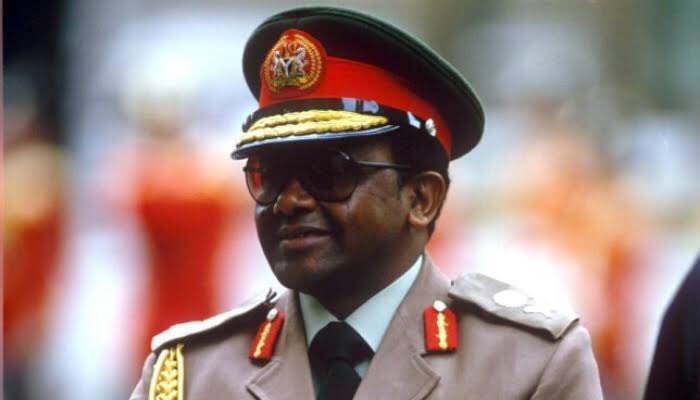 General Sani Abacha was born on September 20, 1943 in Kano but hails from Borno. He was a Nigerian military general who served as the military head of state of Nigeria from 1993 to 1998. His rule was highly dictatorial.
Educational Background
Abacha was born and educated in Kano. He also had military education. He attended the Nigerian Military Training College in Kaduna and later on attended the Mons Officer Cadet School in Aldershot, England.
Career
In 1963, Abacha was commissioned into the Nigerian army and by 1966, he was a second lieutenant with the 3rd Battalion in Kaduna. He took part in the July 1966 counter-coup in Nigeria. When the Civil War broke out, he fought as a platoon and battalion commander.
He later became the commander of the 2nd Infantry Division in 1975. In 1983, he was made the general officer commanding the 2nd Mechanized Division and was appointed a member of the Supreme Military Council.
That same year, he actively took part in the coup d'etat that brought Gen. Muhammadu Buhari to power. Later on in 1985, he took part in the coup d'etat that removed Buhari and brought Gen. Babangida Ibrahim to power.
After this, Abacha was made Chief of Army Staff. In 1990, he was then appointed Minister of Defence.
Head of States
Three years later, on November 17, 1993, Abacha forced the interim president, Ernest Shonekan to resign thereby, becoming the President and Commander-in-Chief of the Armed Forces of Nigeria. His rule saw the achievements of economic successes but recorded high human rights abuses and political assassinations alongside corruption. He formulated degrees that gave him absolute power. So many were wrongfully jailed without trial and executed.
When Moshood Abiola declared himself president, he was jailed, tortured and then died in prison. Olusegun Obasanjo, Oladipo Diya, Gen. shehu Yar'Adua, were all jailed at different times. Ken Saro-Wiwa and other Ogoni activists were ruthlessly killed, an action that attracted the focus of world human rights activists and Nigeria was subsequently banned from some international organization like the Commonwealth of Nations.
On economy, there was a huge increase in the country's foreign exchange reserves from $494 million in 1993 to $9.6 billion by the middle of 1997. There was also a reduction in the external debt of Nigeria from $36 billion in 1993 to $27 billion by 1997. However, there were and are still cases of his looting of Nigeria's funds.
It was also during his reign that Nigeria was drafted into six geopolitical zones- North central, North East, North West, South East, South South and South West.
However, on 8th June 1998, Abacha died in Aso Rock Presidential Villa due to a sudden heart attack and was buried although, there were speculations of him being poisoned. He was succeeded by Gen. Abdul Salami Abubakar.
Personal Life
Abacha was married to Maryann Abacha and they both had ten children, seven sons and three daughters.