DaBaby Biography, Age, Songs and Net Worth
|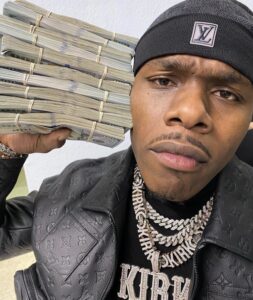 DaBaby Profile
| | |
| --- | --- |
| Name | DaBaby |
| Real Name | Jonathan Lyndale Kirk |
| Age/Date of Birth | 29 years (2020), 22nd December, 1991 |
| Occupation | Musician |
| State of Origin | North Carolina, USA |
| Net Worth | $3 million |

Jonathan Lyndale Kirk, DaBaby who was formerly known as Baby Jesus, is an American rapper, singer, and songwriter from Charlotte, North Carolina. He was born on December 22, 1991, in Cleveland, Ohio. He later moved to Charlotte, North Carolina in 1999.
Educational Background
DaBaby attended Vance High School where he graduated in 2010. He went on to attend the University of North Carolina at Greensboro for two years, but did not complete his studies, as according to him, he only went to school for his parents' sake
Career.
DaBaby began taking music seriously between 2014 and 2015. In 2015, he started off his music career by releasing Nonfiction, his debut mixtape. He later followed this up with his God's Work mixtape series, Baby Talk mixtape series, Billion Dollar Baby, and Back on My Baby Jesus Sh*t. He initially performed under the name Baby Jesus, which he eventually changed out of concern that it had become a distraction.
DaBaby got his big break after signing to Arnold Taylor, the president of the South Coast Music Group label, a big radio promoter. Through his deal with South Coast, DaBaby signed a short-lived distribution deal with Jay-Z's Roc Nation for his Blank Blank mixtape that would prove to be his breakout in late 2018. Through the guidance of Taylor, and following major label bidding wars, DaBaby got a seven-figure recording deal with Interscope.
In January 2019, when DaBaby signed with Interscope, he began his own imprint label called Billion Dollar Baby Entertainment. On March 1, 2019, DaBaby's debut studio album Baby on Baby, was released via Interscope Records. He is also signed to South Coast Music Group and has a joint contract with both labels.
In mid-2019, DaBaby featured on various hit songs, including Megan Thee Stallion's "Cash Shit" and Quality Control's "Baby". On July 5, 2019, DaBaby was featured on Dreamville Records' newly released compilation album Revenge of the Dreamers, on the opening track, "Under the Sun".
In August 2019, he announced that his second album would be titled Kirk, a tribute to his last name. It was later released on September 27. DaBaby closed 2019 having 22 entries on the Billboard Hot 100 for the year, the most of any artist that year.
On April 13, 2020, he announced on Twitter that his third studio album, Blame It on Baby, would be released on April 17, 2020. It also produced DaBaby's highest-charting song, "Rockstar", featuring Roddy Ricch, which has spent seven weeks at number-one on the Billboard Hot 100, and reached number-one in the United Kingdom. On July 27, DaBaby released a new single with his signee Stunna 4 Vegas, titled "No Dribble", included on the deluxe edition of Blame It on Baby, which was released on August 4, 2020, and described by DaBaby as a "brand new album"
Tours
DaBaby has gone on two tours and both was done in 2019. They are
Baby on Baby Tour
Kirk Tour
Awards
Best New Hip Hop Artist by BET Hip Hop Awards (2019)
Best Male Hip Hop Artist by BET Awards (2020)
Winning R&B/Hip-Hop Songs (Baby Sitter and Cash Shit) and Top R&B/Hip-Hop Song (Suge) at ASCAP Rhythm & Soul Music Awards (2020)
Personal Life
Dababy is not married. However, he has a daughter with his ex girlfriend, MeMe and also co-parents her son from her previous marriage
Dababy Net Worth
Dababy is estimated to worth about $3 million