How to Cook Fried Rice, ingredients and methods
|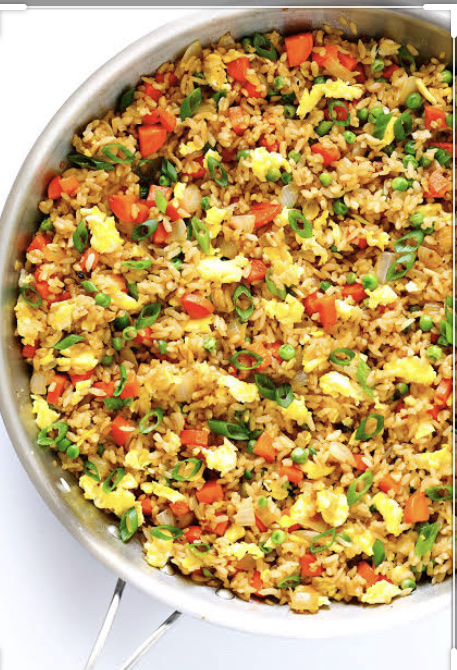 In Nigeria , we all know that the food called fried rice is a very special meal is not something we cook everyday like any other common food, this delicacy is always specially reserved for events like birthday and wedding parties, occasions and ceremonies.
And again this fried rice is well or best enjoyed when taken with moi-moi , Nigerian salad or coleslaw.
A lot of people sees cooking fried rice as a very difficult thing to do but that's not true as it is even among one of the easiest food one can cook. Today, I will be teaching and showing you how you can easily prepare one.
Ingredients for cooking fried rice
1. Some cups of rice
2. Vegetable oil
3. Cow liver
4. Chicken/meat
5. Pepper & salt
6. Onions
7. Maggi cubes
8. Carrot & green bean
9. Seasonings(yellow curry)
Steps to cooking fried rice
• Cut and slice your cow liver for cooking and also cut your whole chicken into pieces for cooking, you can cook both the cow liver and chicken together using ingridents like salt, Korean cubes, seasonings (thyme, curry), onions etc. When it is done, separate the both and kept in something. For the chicken, it is advisable that you fry it with vegetable oil so that it will have a brown colour which is more presentable.
• Get your vegetables (carrot and green beans) , wash them very well and cut into tiny pieces. Soak it in water for 5mins and bring it out to drain off.
• Parboil your rice using a boiled water when it is half done, get it down and sieve it with a basket so that the water can drain off.
• Get your chicken stock (I.e the water used in cooking the chicken) sieve it off so that those ingridents used in preparing it can be separated from it
• Boil the chicken stock when it boils, get your parboiled rice and wash into it and then add your yellow curry to give it that it's fried rice colour and make sure you stirr the whole thing well. You can add a little water to it but don't let the water level to be far above the rice, when the water in the rice dries up, put it down and separate the rice from sticking together using a basket.
• Get your vegetables oil and put in a small amount of it into the pot. At this stage, it is advisable that your vegetables, the cooked cow liver and your rice is divided into portions for easy frying. So get your sliced onions and fry in the vegetable oil, also get a portion of cow liver, then a portion of your vegetables and lastly a portion of your rice, don't forget to stirr it everywell. Do this until all of this is finished. Wow!! After this your cooed fried rice is done and ready to be served.