Abba Kyari Biography: Career, Personal life and death
|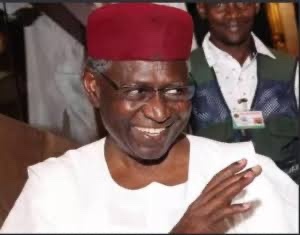 Abba Kyari is a Nigerian lawyer, businessman and politician. He was a former managing director of the United Bank for Africa (UBA) and the Chief of Staff to President Mohammadu Buhari. He was appointed the Chief of Staff to president Buhari on 27th August, 2015. Abba Kyari was born on November 17,1953.
Educational Background
In 1980, Abba Kyari obtained a degree in sociology from University of Warwick, England. He later proceeded to study law at the University of Cambridge, London. He was called bar in 1983. In 1984, Abba Kyari obtained a Masters degree in Law from the University of Cambridge, England. Kyari also attended International Institute for Management Development at Lausanne, Switzerland and Harvard Business School from 1992-1994.
Career
Abba Kyari worked with Fani Kayode and Sowemimo in a law firm before joining New Africa Holdings Limited Kaduna as an editor in 1988. In 1990, he was appointed a commissioner for Forestry and Animal Resources by the Borno State government. From 1990 to 1995, Abba Kyari was the Secretary to the Board of African International Bank Limited.
Abba Kyari was later appointed the Executive Director, Management Services, United Bank for Africa Plc. (UBA) and was later appointed Managing Director and Chief Executive of the Bank.
In 2002, He was appointed a Director of Unilever Nigeria Plc. and later Director of Exxon Mobil Nigeria.
Between 2000 and 2005, Abba Kyari was an honorary member of the Presidential Advisory Council on investment.
Following the victory of President Mohammadu Buhari in the 2015 gubernatorial poll Abba Kyari was appointed the Chief of Staff to President Buhari in August 2015. He was reappointed to the Samar position in 2019 after President Buhari won his second term bid.
Award
and Honors
Abba Kyari is a recipient of the Nigerian Honor Award of Officer of the Order of the Niger (O.O.N).
Personal
life

Abba Kyari is married to a wife and four children
Abba Kyari tests positive to Corona Virus
On 24th of March 2020, Abba Kyari tested positive to Covid-19 after he returned from an official trip in Germany.
Abba Kyari who was reported to be attending series of meetings with President Buhari, VP Osinbajo, the Minsters and the Federal Executive Council.
Abba Kyari blood sample was taken on Saturday despite the fact that he showed no symptoms of Corona Virus. However the result came out positive on Monday
President Buhari however tested negative to the virus
Death of Abba Kyari
On 18th of April, 2020, A State House Press Release by the Senior Special Assistant on Media and Publicity to President Buhari, Femi Adesina, confirmed that Abba Kyari had died of Corona Virus on Friday 17th April,2020.
The statement reads
STATE HOUSE PRESS RELEASE
CHIEF OF STAFF TO PRESIDENT, ABBA KYARI, PASSES ON
The Presidency regrets to announce the passage of the Chief of Staff to the President, Mallam Abba Kyari.
The deceased had tested positive to the ravaging COVID-19, and had been receiving treatment. But he died on Friday, April 17, 2020.
May God accept his soul.
Funeral arrangements will be announced shortly.
Femi Adesina
Special Adviser to the President
(Media and Publicity)
April 18, 2020
Abba Kyari was buried on Saturday 18th April, 2020 at Gudu Cemetery