Cristiano Ronaldo Biography, Age Trophies and Net Worth
|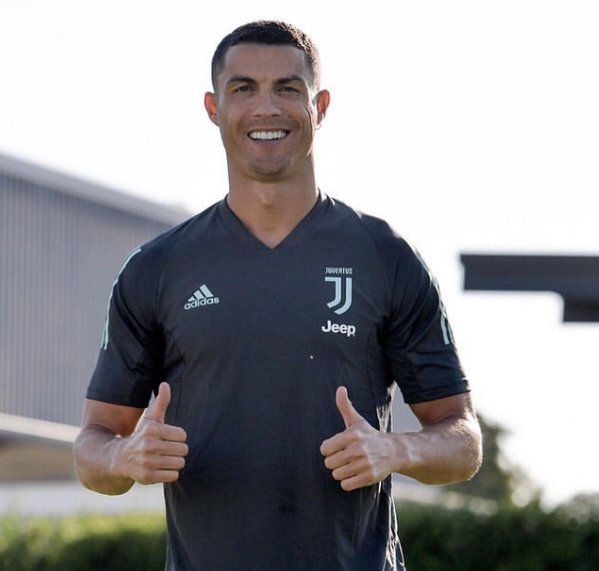 Cristiano Ronaldo Profile
| | |
| --- | --- |
| Name | Ronaldo |
| Real Name | Cristiano Ronaldo dos Santos Aveiro |
| Age/Date of Birth | 35 years (2020), February 5, 1985 |
| Occupation | Footballer |
| State of Origin | São Pedro, Funchal, Portugal |
| Net Worth | $460 million |
Seen as the best and greatest of all times (G.O.A.T) by some in regards to football, and having the ability to reproduce results regardless of the team he's playing for as against his 'rival', Lionel Messi, Cristiano Ronaldo dos Santos Aveiro, Cristiano Ronaldo, popularly known by his nickname 'CR7' is a Portuguese professional football player. He plays forward for Juventus (Italian club) and the Portugal National Team. He was born on February 5, 1985, in São Pedro, Funchal, on the Portuguese island of Madeira, and grew up in Santo António, Funchal.
Career
Ronaldo began his career playing for an amateur team, Andorinha (1992-1995) where his father was the kit man and later spent two years with Niaconal. In 1997, at age 12, he was signed by Sporting CP for 1,500 Euros after a three-day trial. Ronaldo stopped attending school so as to focus on his football career.
His football dreams however, were threatened by a racing heart condition, but after undergoing surgery he resumed playing. Ronaldo earned his place in the youth team of Sporting CP at the age of 16, after he was promoted by the first-team manager.
Ronaldo became the first sporting CP player to play in the under-16, under-17, under-18, B-team and first team in a season. His representative spoke with then-Liverpool boss Gerard Houllier and Barcelona president, Joan Laporta on signing him. Arsenal Manager also met with Ronaldo to discuss a possible transfer.
Alex Ferguson was impressed by Ronaldo's performance in a 3-1 defeat of Manchester United in August 2003. As agaist the plan to sign Rinaldo for a year before loaning him back to Sporting CP, Ferguson was pressurized to sign him permanently. Sporting was paid 12.24 million pounds in exchange for him which was the most expensive signing for a teenager in the 2003–2004 season. He played with United until 2008 – 2009 season.
Ronaldo secured a move to Real Madrid before the start of the 2009–2010 season, in a world-record transfer of 94 million Euros, with a 1 billion Euros buyout clause in his contract which was set to expire in 2015. At least 80,000 fans attended his presentation at the Santiago Bernabéu, surpassing the 25-year record of 75,000 fans who had welcomed Diego Maradona at Napoli.
After rumours of an imminent move from Real Madrid, Ronaldo secured a 100 million Euros transfer to Juventus which also included an additional 12 million euros in fee and contributions to Ronaldo's youth club. His transfer was the highest for a player above 30 years old.
In the national level, after beginning his national team career in 2001, Ronaldo became a regular face in the Portuguese National team squad, appearing in the 2002 URFA European Under-17 Football Championship, the 2004 summer Olympic as well as in the under-15, under-17, under-20, under-21 and under-23 national teams, before debuting for the senior team at age 18.
After a series of trials at the Euros, Ronaldo finally led Portugal to the Euros success in 2016. He last featured for the Portuguese side in the 2018 FIFA World Cup in Russia where he had a spectacular performance.
Ronaldo Awards and Trophies
Sporting
Supertaça Cândido de Oliveira: 2002
Manchester United
Premier League: 2006–07, 2007–08, 2008–09
FA Cup: 2003–04
Football League Cup: 2005–06, 2008–09
FA Community Shield: 2007
UEFA Champions League: 2007–08
FIFA Club World Cup: 2008
Real Madrid
La Liga: 2011–12, 2016–17
Copa del Rey: 2010–11, 2013–14
Supercopa de España: 2012, 2017
UEFA Champions League: 2013–14, 2015–16, 2016–17, 2017–18
UEFA Super Cup: 2014, 2017
FIFA Club World Cup: 2014, 2016, 2017
Juventus
Serie A: 2018–19, 2019–20
Supercoppa Italiana: 2018
Portugal
UEFA European Championship: 2016
UEFA Nations League: 2018–19
Ronaldo Individual Awards
FIFA Ballon d'Or/Ballon d'Or: 2008, 2013, 2014, 2016, 2017
FIFA World Player of the Year: 2008
FIFPro World Player of the Year: 2008
The Best FIFA Men's Player: 2016, 2017
UEFA Best Player in Europe Award: 2014, 2016, 2017
UEFA Club Footballer of the Year: 2007–08
UEFA Club Forward of the Year: 2007–08
FIFPro Special Young Player of the Year: 2003–04, 2004–05
PFA Portuguese Player of the Year: 2016, 2017, 2018, 2019
European Golden Shoe: 2007–08, 2010–11, 2013–14, 2014–15
FIFA Puskás Award: 2009
FIFA FIFPro World11: 2007, 2008, 2009, 2010, 2011, 2012, 2013, 2014, 2015, 2016, 2017, 2018, 2019
UEFA Team of the Year: 2004, 2007, 2008, 2009, 2010, 2011, 2012, 2013, 2014, 2015, 2016, 2017, 2018, 2019
UEFA Champions League Squad of the Season: 2013–14, 2014–15, 2015–16, 2016–17, 2017–18, 2018–19
UEFA European Championship Team of the Tournament: 2004, 2012, 2016
UEFA European Championship Silver Boot: 2016
UEFA Ultimate Team of the Year (published 2017)
UEFA Nations League Finals Team of the Tournament: 2019
FIFA World Cup Dream Team: 2018
FIFA Club World Cup Golden Ball: 2016
FIFA Club World Cup Silver Ball: 2008, 2014, 2017
PFA Young Player of the Year: 2006–07
PFA Players' Player of the Year: 2006–07 2007–08
Premier League Player of the Season: 2006–07, 2007–08
FWA Footballer of the Year: 2006–07, 2007–08
PFA Premier League Team of the Year: 2005–06, 2006–07, 2007–08, 2008–09
Premier League Golden Boot: 2007–08
La Liga Best Player: 2013–14
La Liga Best Forward: 2013–14
La Liga Most Valuable Player: 2012–13
La Liga Team of the Season: 2013–14, 2014–15, 2015–16
Pichichi Trophy: 2010–11, 2013–14, 2014–15
UEFA La Liga Team of The Season: 2015–16, 2016–17
BBC Overseas Sports Personality of the Year: 2014
Serie A Most Valuable Player: 2018–19
Serie A Footballer of the Year: 2019
Serie A Team of the Year: 2018–19
Orders
PRT Ordem de Nossa Senhora da Conceicao de Vila Vicosa Cavaleiro ribbon.svg Medal of Merit, Order of the Immaculate Conception of Vila Viçosa (Portuguese Royal Family)
PRT Order of Prince Henry – Grand Officer BAR.png Grand officer of the Order of Prince Henry
POR Ordem do Merito Comendador BAR.svg Commander of the Order of Merit
Cordão Autonómico de Distinção
Personal Life
Ronaldo has four children. He first became a father to a son, Cristiano Jr., born on 17 June 2010 in the United States with the identity of the mother unknown. Ronaldo then became father to twins, daughter Eva and son Mateo, born on 8 June 2017 in the United States via surrogacy. He is currently in a relationship with Spanish Georgina Rodríguez, a former shop assistant, who gave birth to their daughter Alana Martina, on 12 November 2017.
Ronaldo Net Worth
Being one of the most successful athletes in the world, Ronaldo is estimated to worth $460 million. He is the first footballer, as well as the third sportsman, to earn $1 billion in their career.