Mohammadu Buhari Biography; Career and Personal life
|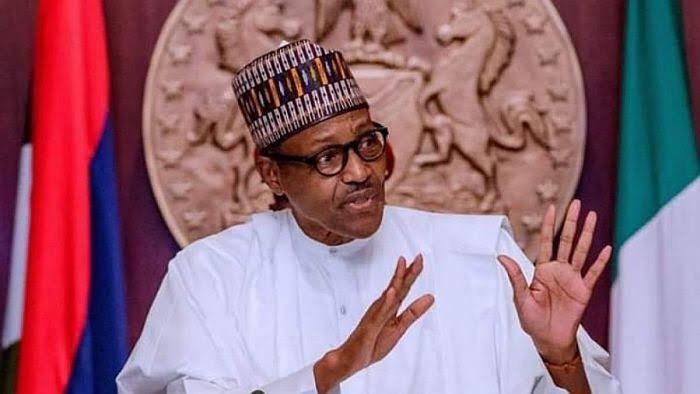 Muhammadu Buhari is presently the President of the Federal Republic of Nigeria since 2015. Muhammadu Buhari was born to a Fulani family on 17 December 1942, in Daura, Katsina State, to his father Mallam Hardo Adamu, a Fulani chieftain, and his mother Zulaihat He is the 23rd child of his father. Buhari was raised by his mother, after his father died when he was about four years old.
Mohammadu Buhari Profile
| | |
| --- | --- |
| Name | Mohammadu Buhari |
| Real Name | Mohammadu Buhari |
| Date of Birth | 17 December 1942 |
| Age | 80 years (2022) |
| State of Origin | Kastina State |
| Nationality | Nigeria |
| Occupation | Politician Soldier |
| Political Party | All Progressive Congress (APC) |
| Religion | Muslim |
| Tribe | Fulani |
| Wife | Aisha Buhari |
| Net Worth | $80 million |
| Copied from | contents101.com |
Military Background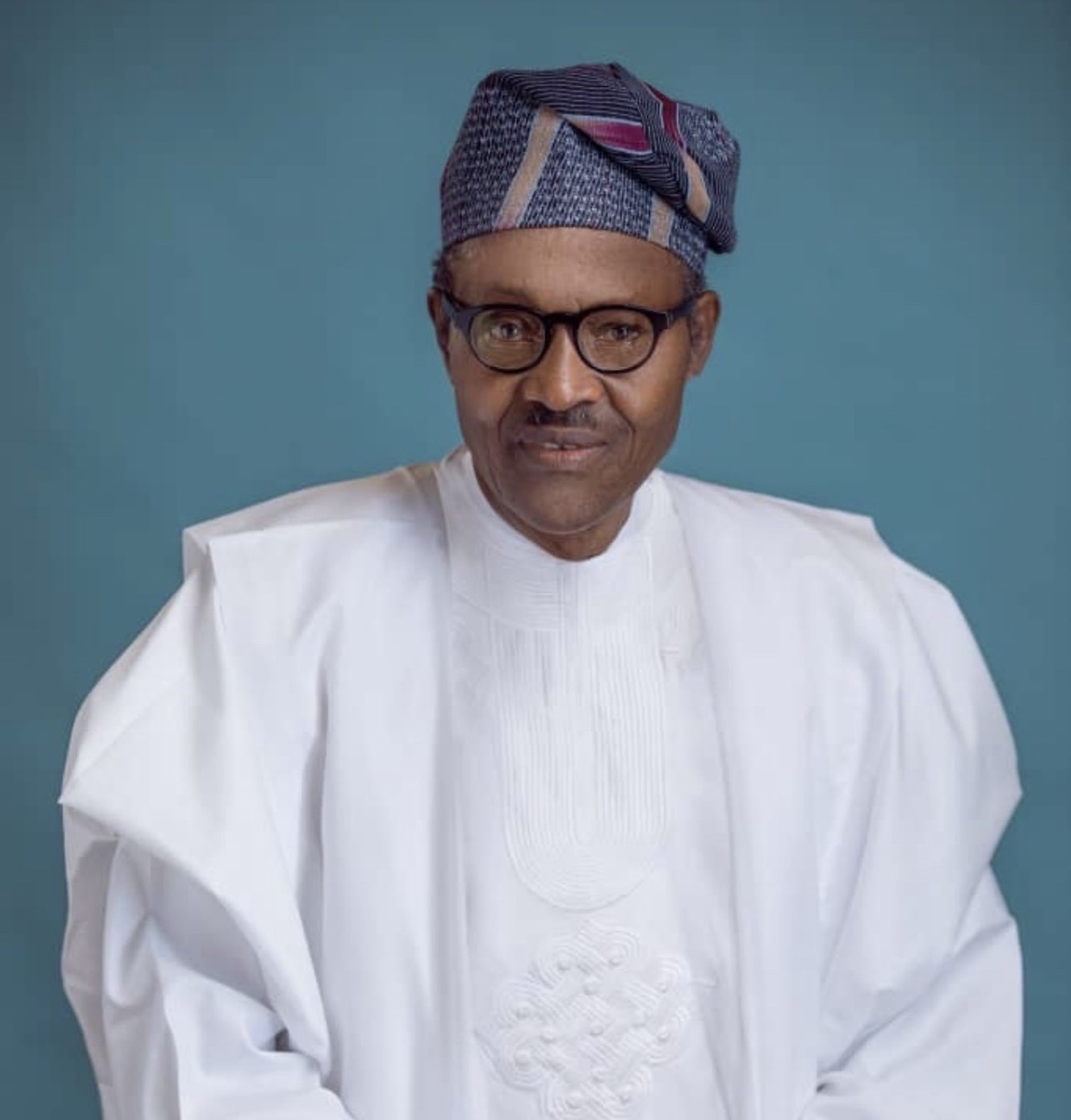 Buhari enrolled at age 19 in the Nigerian Military Training College (NMTC) in 1962. From 1962 to 1963,he underwent officer cadet training at Mons Officer Cadet School in Aldershot in England.
In January 1963, at age 20, he was commissioned a second lieutenant and appointed Platoon Commander of the Second Infantry Battalion in Abeokuta, Nigeria. From November 1963 to January 1964, Buhari attended the Platoon Commanders' Course at the Nigerian Military Training College, Kaduna.
In 1964, he facilitated his military training by attending the Mechanical Transport Officer's Course at the Army Mechanical Transport School in Borden, United Kingdom. From 1965 to 1967, Buhari served as commander of the Second Infantry Battalion and appointed brigade major, Second Sector, First Infantry Division, April 1967 to July 1967.
Buhari was also active in the Nigerian Civil War (1967-1970) on the part of the Federal Government. He was assigned to the 1st Division under the command of Lt. Col Mohammed Shuwa, the division had temporarily moved from Kaduna to Makurdi at the onset of the Nigerian Civil War.
Buhari's initial assignment was as Adjutant and Company Commander to the 2 battalion unit, Second Sector Infantry of the 1st Division. The 2 battalion was one of the units that participated in the first actions of the war.
Buhari was briefly the 2 battalion's Commander and led the battalion to Afikpo to link with the 3rd Marine Commando and advance towards Enugu through Nkalagu and Abakaliki. However, before the move to Enugu, he was posted to Nsukka as Brigade Major of the 3rd Infantry Brigade under Joshua Gin.
The Nigerian Civil war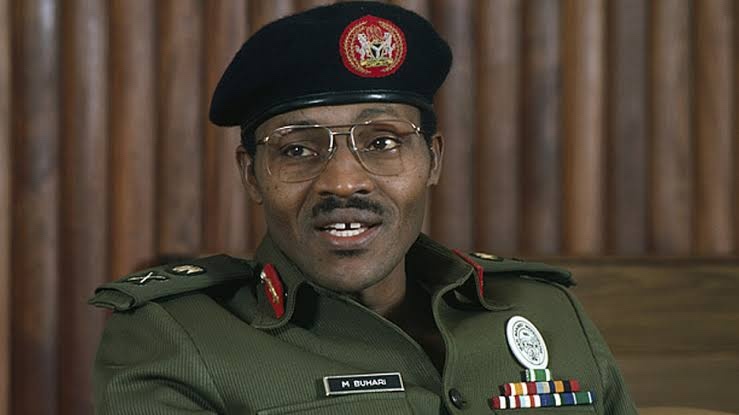 In 1968, he was posted to the 4 Sector also called the Awka sector which was charged to take over the capture of Onitsha from Division 2. The sector's operations was within the Awka-Abagana-Onitsha region which was important to Biafran forces because it was a major source of food supply. It was in the sector that Buhari's group suffered a lot of casualties trying to protect food supplies route of the rebels along Oji River and Abagana. However, at the end, the Nigerian Army won the war.
From 1970 to 1971, Buhari was Brigade Major/Commandant, Thirty-first Infantry Brigade. He then served as the Assistant Adjutant-General, First Infantry Division Headquarters, from 1971 to 1972. He also attended the Defence Services Staff College, Wellington, India, in 1973.
From 1974 to 1975 Buhari was Acting Director of Transport and Supply at the Nigerian Army Corps of Supply and Transport Headquarters.
From 1978 to 1979, he was Military Secretary at the Army Headquarters and was a member of the Supreme Military Council from 1978 to 1979. From 1979 to 1980, at the rank of colonel, Buhari (class of 1980) attended the US Army War College in Carlisle, Pennsylvania, in the United States, and gained a Masters Degree in Strategic Studies. Upon completion of the on-campus full-time resident program lasting ten months and the two-year-long, distance learning program, the United States Army War College (USAWC) college awards its graduate officers a master's degree in Strategic Studies.
Nigeria just like other African countries in the immediate post independence was involved in coups and counter coups. Buhari was involved both actively and passively in some of these coups. For example, after the 1966 Nigerian coup d'état, which resulted in the death of Premier Ahmadu Bello, Lieutenant Buhari alongside several young officers from Northern Nigeria, took part in the July counter-coup which ousted General Aguiyi Ironsi replacing him with General Yakubu Gowon.
In 1975, Lieutenant Colonel Buhari and other officers were instrumental in bringing General Murtala Mohammed to power. He was later appointed Governor of the North-Eastern State from 1 August 1975 to 3 February 1976. On 3 February 1976, the North Eastern State was divided into three states Bauchi, Borno and Gongola. Buhari then became the first Governor of Borno State from 3 February 1976 to 15 March 1976.
In March 1976, following the assassination of General Murtala Mohammed, his deputy General Olusegun Obasanjo became the military head of state and appointed Buhari as the Federal Commissioner for Petroleum and Natural Resources. In 1977, when the Nigerian National Petroleum Corporation was created, Buhari was appointed as its Chairman, a position he held until 1978.
Military Head of State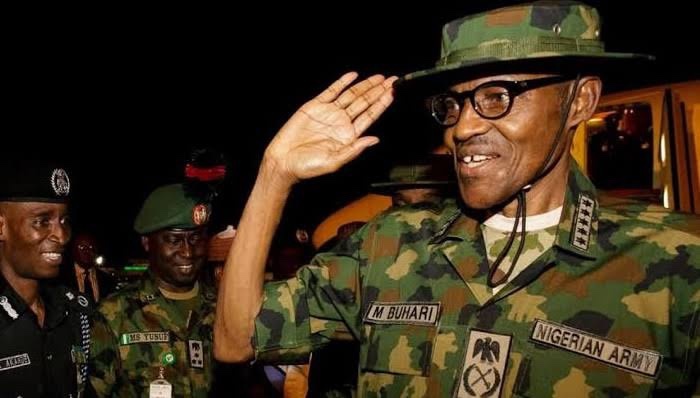 Major-General Buhari was one of the leaders of the military coup of December 1983 that overthrew the democratically elected government of President Shehu Shagari and ended Nigeria's second Republic. At the time of the coup plot, Buhari was the General Officer Commanding (GOC), Third Armoured Division of Jos.
He justified the military's seizure of power by castigating the civilian government as "hopelessly corrupt" and promptly suspended the constitution. However his military rule was seen to have generated so many crises for the country as there were less regard for human rights.
However, in August 1985, Major General Buhari was overthrown in a coup led by General Ibrahim Babangida and other members of the ruling Supreme Military Council (SMC). Buhari was then detained in Benin City until 1988. Buhari spent three years of detention in a small guarded bungalow in Benin. He had access to television that showed two channels and members of his family were allowed to visit him on the authorization of Babangida.
In December 1988, after his mother's death he was released and retired to his residence in Daura. In Katsina, he became the pioneer chairman of Katsina Foundation that was founded to encourage social and economic development in Katsina State. Buhari also served as the Chairman of the Petroleum Trust Fund (PTF), a body created by the government of General Sani Abacha, and funded from the revenue generated by the increase in price of petroleum products, to pursue developmental projects around the country.
From 2003, Buhari started vying for the position of Presidency. In 2003, Buhari ran for office in the presidential election as the candidate of the All Nigeria People's Party (ANPP). He was defeated by the People's Democratic Party incumbent, President Olusẹgun Ọbasanjọ, by a margin of more than 11 million votes.
On 18 December 2006, Buhari was nominated as the consensus candidate of the All Nigeria People's Party. His main challenger in the April 2007 polls was the ruling PDP candidate, Umaru Yar'Adua, who hailed from the same home state of Katsina. Once again, he lost.
In March 2010, Buhari left the ANPP for the Congress for Progressive Change (CPC), a party that he had helped to found. Buhari was the CPC Presidential candidate in 16 April 2011 general election, running against incumbent President Goodluck Jonathan of the People's Democratic Party (PDP), Mallam Nuhu Ribadu of Action Congress of Nigeria (ACN), and Ibrahim Shekarau of ANPP. These were the major contenders among 20 contestants. However, Goodluck Jonathan emerged the winner.
Presidency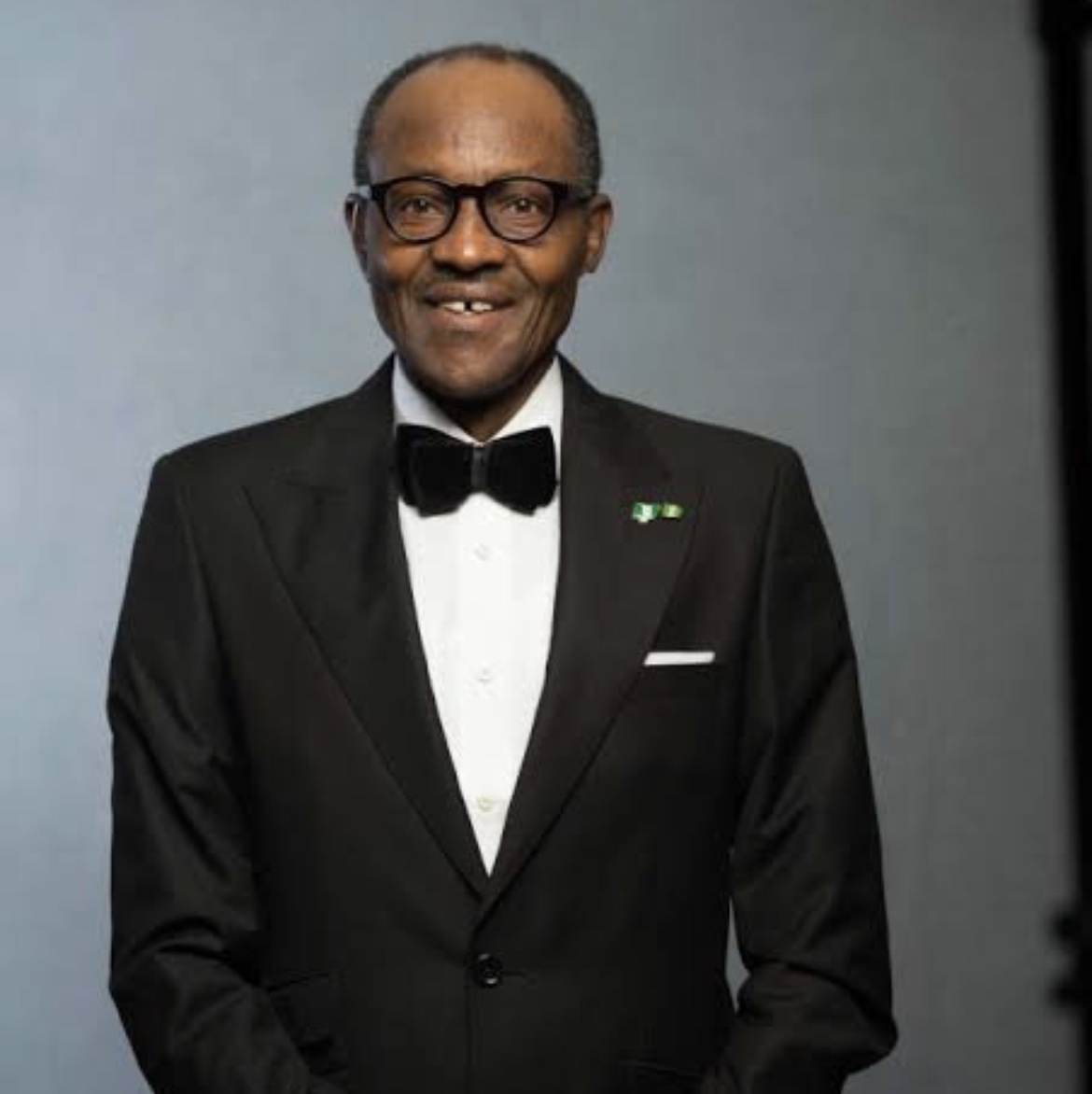 In 2015, Buhari ran as a presidential candidate under the All Progressive Congress (APC). Despite the troubles that accompanied the pre-election period, Buhari emerged the winner. On 26 February 2019, Buhari was elected to a second term, defeating People's Democratic Party opponent Atiku Abubakar.
INEC issued the certificate of return to President Buhari and Osinbajo on February 27, 2019. On May 29, 2019, President Buhari took his oath of office for the second term.
Personal life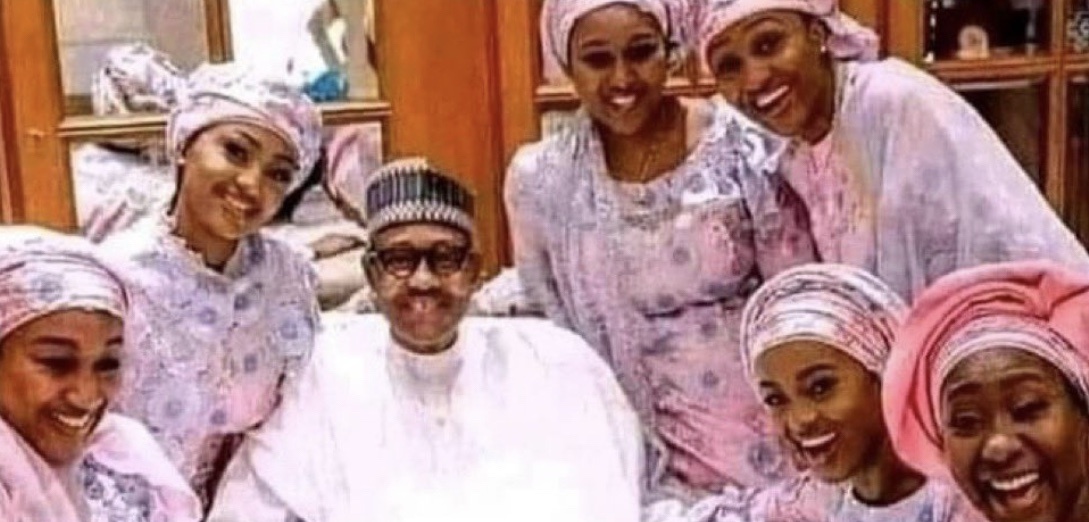 Buhari is presently married to Aisha Buhari after he divorced his first wife Safinatu in 1988 who died on the 14th January, 2006. He and his first wife had a total of five children, 4 girls and 1 boy. Also, his second wife Aisha also had five children for him, 4 girls and a boy.
His first daughter from his first wife, Zulaihat died of sickle cell anaemia in November 2012 two days after giving birth. His only son also from the first wife, Musa also died. His surviving children are Fatima, Hadiza, Safinatu (from the 1st wife), Aisha, Halima, Yusuf, Zahra and Amina(from his second wife).
Buhari Net Worth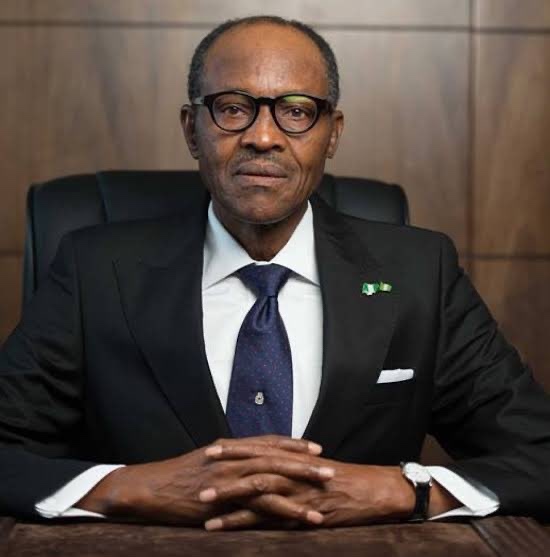 Buhari is estimated to worth $80 million.