Biography of Sanusi Lamido Sanusi
|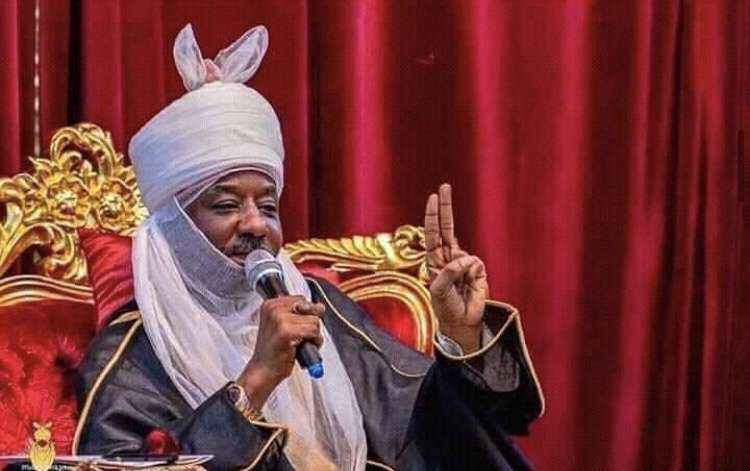 Sanusi Lamido Sanusi also known as Mohammmadu Sanusi II was the 14th Emir of Kano. Sanusi was born on 31st July, 1961 to the family of Aminu Sanusi , a career diplomat who served as the Nigerian Ambassador to Belgium, China and Canada.
His grandfather Mohammadu Sanusi I was the 11th Emir of Kano.He was an Economist and banker. He served as the Governor of Central Bank of Nigeria from 2009 to 2014. He is from the Fulani Sullubawa clan.
Educational Background
Sanusi obtained his Secondary School Leaving Certificate (SSCE) from Kings College Lagos, in 1977. In 1981, he obtained a degree in economics from the Ahmadu Bello University (ABU) Zaria. In 1983, he obtained a masters degree in Economics.
Career
Sanusi started as a lecturer in the Department of Economics in Ahmadu Bello University, Zaria.
In 1985, Sanusi was hired by Icon Limited (a subsidiary of Morgan Guaranty Trust) and Barings Bank. In 1997, Sanusi worked with United Bank for Africa in the credit and risk management division.
In 2005, Sanusi became a board member and executive director in charge of risk and management control at First Bank of Nigeria. In 2009, Sanusi became the first northern Nigerian to head the bank after he was appointed the CEO of First Bank of Nigeria.
On 1st June, 2009, Sanusi was appointed by former President Umaru Musa Yar'Adua as Governor of Central Bank. He was confirmed as CBN governor by the Nigerian Senate on 3rd June, 2009.
Sanusi initiated a lot of banking reforms in the Nigerian banking sector which was aimed at enhancing the quality of banks, establishing financial stability, enabling healthy financial sector evolution and ensuring that the financial sector contributes to the real economy.
He reduced the number of banks In Nigeria through merger and acquisition in bid to make Nigerian banks stronger and accountable.
In 2014, Sanusi was suspended by former President Goodluck Jonathan after raising the alarm on the US$20 billion NNPC scandal.
Emir of Kano
On 8th June, 2014, Sanusi was selected to succeed his Grand Uncle Ado Bayero as the Emir of Kano. His appointment as the new Emir was controversial. It was believed that Sanusi was appointed as Emir to evade fraud charges from his tenure at the central bank.
Sanusi was crowned the Emir of Kano and leader of the Tijaniyya Sufi order, the second-most-important Muslim position in Nigeria after the Sultan of Sokoto, leader of the larger Qadiriyya Sufi order.on 9th June, 2014.
In November 2014, Boko Haram bombed the Great Mosque of Kano after Sanusi urged his followers to fight Boko Haram. Sanusi likened Boko Haram leader, Shekau's extremism to those of the heretical Islamic preacher Maitatsine.
While Emir of Kano, Sanusi was outspoken on government policies. He accused the Kano state government of misplaced priorities. In 2017, the emirate council was under investigation for corruption. Many saw this as retribution over comments he made. The investigation was later called off by the state legislature following intervention by the ruling class.
In 2019, the Kano State Governor Abdullahi Umar Ganduje created four new Emirates in Kano which reduced Sanusi's territory from 44 to 10 local governments.
Sanusi Disposed as Emir of Kano
On 9th March, 2020, the Kano State Governor Umar Ganduje disposed Sanusi as the Emir of Kano and appointed his Aminu Ado Bayero as the new Emir of Kano.
Ganduje through the Secretary of State Usman Alhaji said Sanusi was removed in line with the recommendation of the Kano State Public Complaint and Anti-Corruption Commission.
He added that Sanusi was dethroned due to insubordination as he was accused by the state government of disrespecting lawful instructions.
The state government also stated that the dethronement was part of its move to safeguard the "sanctity, culture, tradition, religion and prestige" of the Kano State Emirate which was established over a millennium ago.
Sanusi was exiled from Kano state and was escorted by security operatives to Loko, Nasarawa state where he will spend 10years of his life.