Boss Mustapha Biography; Career and Personal life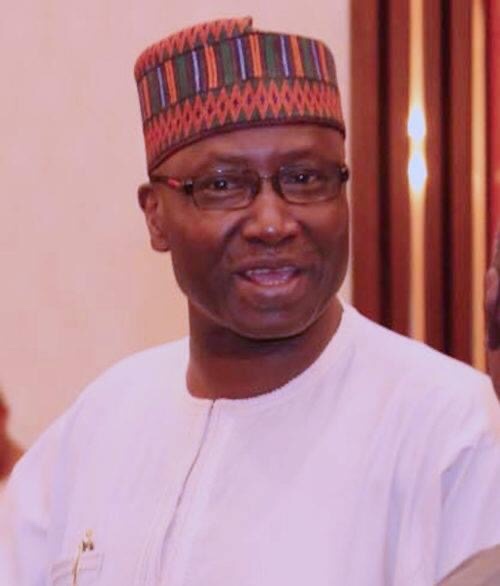 Boss Gidahyelda Mustapha was born in Garaha, Hong, Adamawa State. He is a Nigerian lawyer, businessman and politician. He was the Managing Director, Nigeria Inland Waterways Authority and currently the Secretary General of the Federation (SGF).
Educational Background
Boss Mustapha has his primary education in Hong, Adamawa State before proceeding to North East College of Arts and Sciences in Maiduguri, Borno State. He proceed to Ahmadu Bello University (ABU) Zaria, where he obtained a degree in Law in 1979.
He proceeded to Nigerian Law School Lagos after which he was called to Bar in 1980. He went for his compulsory National Youth a Service and obtained his discharge certificate in 1981.
Career
Boss Mustapha worked briefly with an Italian consultancy firm Sotesa Nigeria Limited.
In 1980s, Boss Mustapha joined politics and served as a manner Federal Republic of Nigeria Constituent Assembly between 1988 and 1989. He was among the committee that drafted the 1989 constitution.
In 1983, Boss Mustapha was employed as a counsel at Messrs Onagoruwa & Co in Lagos.
In 1989, Boss Mustapha served as the state chairman of the Peoples Solidarity Party (PSP) in old Gongola State. PSP was disbanded by Gen Ibrahim Babangida for failing the government litmus test.
In 1990, Boss Mustapha became the Adamawa State Chairman of the Social Democratic Party till 1991.
He ran for the office of the Adamawa State Governor under the platform of the Social Democratic Party (SDP) in 1991 but lost to Abubakar Saleh Michika of National Republican Convention.
In 1994,Boss Mustapha establishes his own law firm Messrs Mustapha & Associates where he served as Principal Counsel till 2000, before moving to work with Adriot Lex & Co as principal consultant till 2006.
In 1998, Boss Mustapha joined the newly formed Peoples Democratic Party (PDP)
In the year 2000, Boss Mustapha was appointed alongside 6 others by former President Olusegun Obasanjo to probe Muhammadu Buhari-led Petroleum Trust Fund.
In 2006, Boss Mustapha left PDP for Action Congress of Nigeria (ACN)
In 2007, Boss Mustapha served as the Deputy Director of Atiku Abubakar campaign organization.
In 2014, Boss Mustapha ran for Anamawa State Governor but was unsuccessful in his bid.
Boss Mustapha was the Deputy National Chairman of the Action Congress of Nigeria (ACN) and a member of the transition committee that formed a merger of political parties that brought President Buhari to power in 2015.
In October 2017, Boss Mustapha was appointed as the Secretary General of the Federation by President Buhari after Babachir Lawal was accused of alleged money laundering.
Following the outbreak of Corona Virus in Nigeria, Boss Mustapha was appointed a member of the Presidential Task Force to battle Covid-19 outbreak in Nigeria.