Biography of Ibrahim Magu
|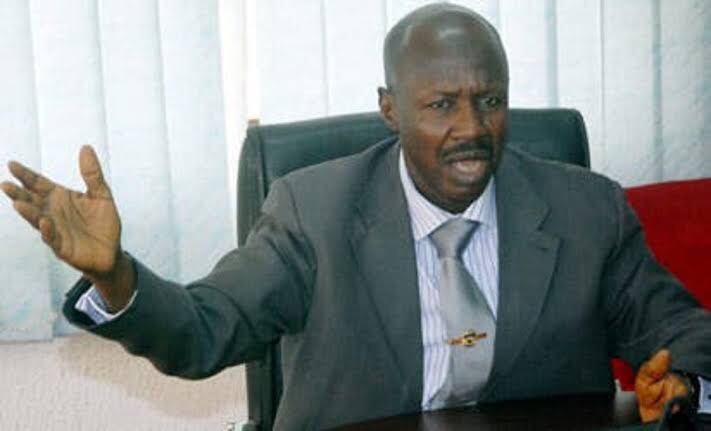 Ibrahim Mustafa Magu was born on 5th May, 1962 in Maiduguri, Borno State to the family of Mallam Mustafa Magu and Hajiya Bintu Magu. Magu is a Nigerian police officer and the former acting chairman of the Economic and Financials Crimes Commission (EFCC).
Magu's father died when he was young this was raised by his uncle Bukar Magu, who was the first Accountant –General of the North-Eastern State.
Educational Background
Magu has his primary education in Yarwa Practicing Primary School in Maiduguri, Borno State between 1969 and 1975. He proceeded to Waka Biu's Secondary School where he obtained his Senior secondary School Certificates( SSCE) in 1980.
In 1986, Magu obtained a degree in accounting from the Ahmadu Bello University, Zaria.
Upon graduation Magu went for the compulsory Youth Service Corp where he served as an accountant in Benue State Health Services Management Board, Makurdi
Career
After graduation from school Magu worked in various ministries and departments in Borno State as an accountant. By 1990, Magu was a Zonal Accountant before voluntarily resigning to become a police officer.
As a police officer, Magu worked as the Coordinator, Nigeria Police Building Society. He later moved to work with the Special Fraud Unit (SFU) of the Nigeria Police Criminal Investigations Department (CID). Magu worked as team leader of the Financial Crimes, Money Laundering and Advance Fee Fraud investigation at the Criminal Investigations Department (CID).
In 2003, Magu was promoted to the rank of Chief Superintendent of police(CSP)
Upon establishment of the Economic and Financials Crimes Commission (EFCC), Magu worked with the pioneer chairman of EFCC, Nuhu Ribadu and later with Ibrahim Lamborde and way a key person in the achievements recorded by Nuhu Ribadu.
In 2015, President Buhari appointed Magu as the acting chairman of the EFCC. However, his appointment was rejected by the senate. Magu served in acting capacity as the chairman of EFCC.
In 2018, Magu was promoted by the Nigerian Police Force from Deputy Commissioner to the rank of Commissioner.
As Chairman of EFCC, 603 Nigerian figures were convicted on corruption charges
Upon re election of President Buhari in the 20-9 general elections, he reappointed Magu as the chairman of EFCC.
Controversies
In 2008, Magu was arrested for allegedly being in possession of classified EFCC files in his residence in Abuja.
Rejection by the senate
The 8th Senate rejected the appointment of Magu as Chairman of the Economic and Financials Crimes Commission (EFCC) twice on the basis that Magu lacks the moral integrity to lead the EFCC
Magu suspended as EFCC chairman
On 6th July, 2020 Magu was rumored to be arrested by the Department of State Security Services(DSS) over corruption allegations. However, a statement by EFCC claimed Magu went to the presidential villa on invitation.
However, on 7th July, 2020, Magu was suspended as EFCC chairman by President Buhari over corruption allegations against him.
Magu was replaced by the Director of Operations Mohammed Umar
Personal life
Ibrahim Magu is married with three children