Omo Ghetto: The Saga, Review, Production, Cast and Box Office
|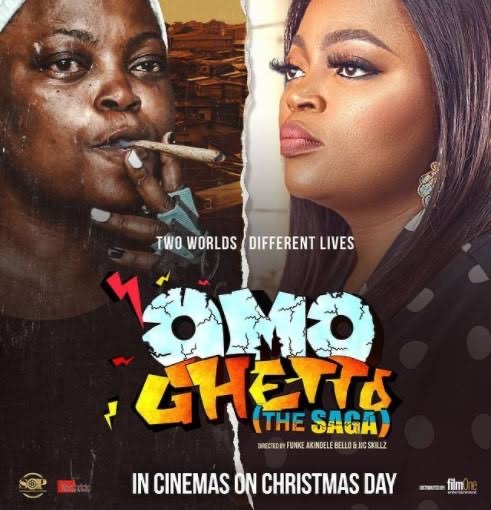 Omo Ghetto: The Saga otherwise known as Omo Ghetto 2 is a Nigerian gangster comedy movie SceneOne Productions. The movie was distributed by FilmOne Distribution. Omo Ghetto was directed by Funke Akindele Bello and JJC Skillz. Omo Ghetto; The Saga premiered on 25th December,2020.
Omo Ghetto: The Saga
| | |
| --- | --- |
| Release Date | December 25th, 2020 |
| Time | 110 minutes |
| Director | Funke Akindele and JJC Skillz |
| Production Company | SceneOne Productions |
| Distribution Company | FilmOne Distribution |
| Box office | N468,036,300 |
Omo Ghetto: The Saga Cast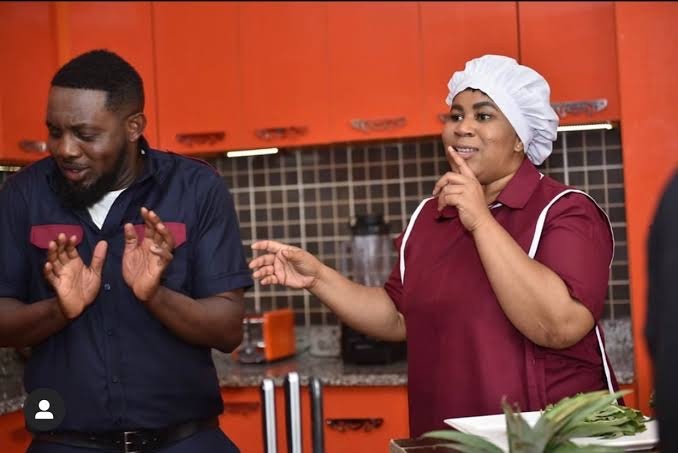 Omo Ghetto featured popular Nigerian actors and actresses like
Funke Akindele
Nancy Isime
Eniola Badmus as Busty
Naira Marley (cameo appearance)
Chioma Akpotha as Chummy Choko
Bimbo Thomas as Nikky
Akah Nnani as Mario
Tini Mba
Blossom Chukwujekwu and many others.
Production of Omo Ghetto; The Saga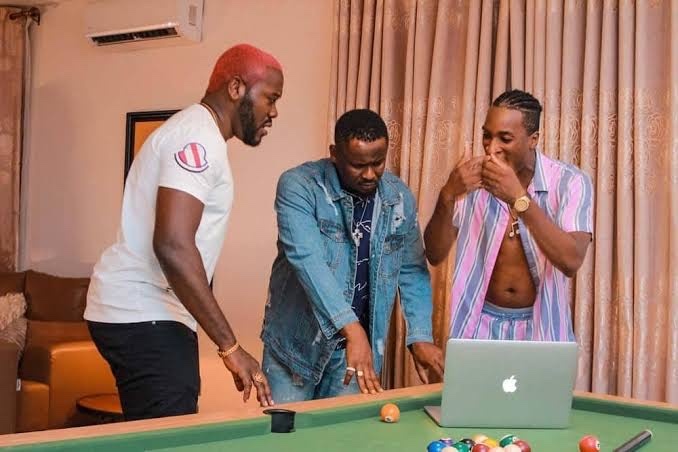 Omo Ghetto: The Saga was the first collaboration between Funke Akindele and her husband JJC Skillz as co producer. The movie production commenced in February 2020.
The movie was shot in Nigeria and Dubai, United Arab Emirates. However, the shooting of Omo Ghetto 2 had challenges due to Covid-19 pandemic.
Box Office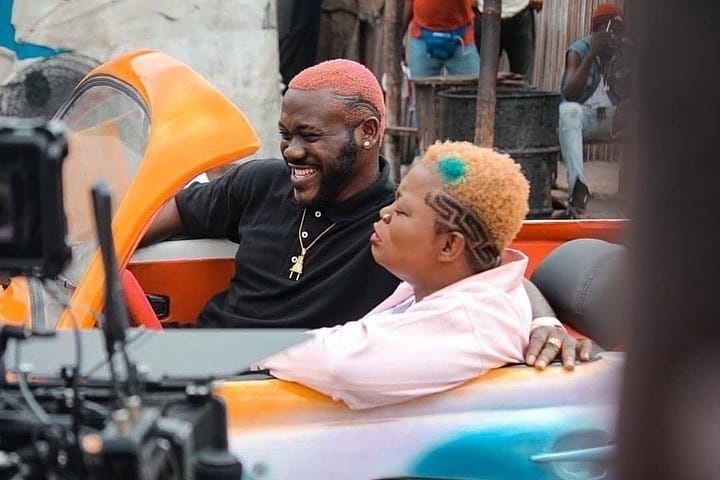 Omo Ghetto; The Saga grossed N189 million in its opening week. Omo Ghetto; The Saga was the first Nollywood movie to ever gross N99 million in its opening week beating the previous record by the movie "The Wedding Party 2". Thus far, the movie have grossed N270 million. As at January 2021, Omo Ghetto 2 is the highest grossing Nollywood movie of all time at N468,036,300
Omo Ghetto: The Saga Review and Reactions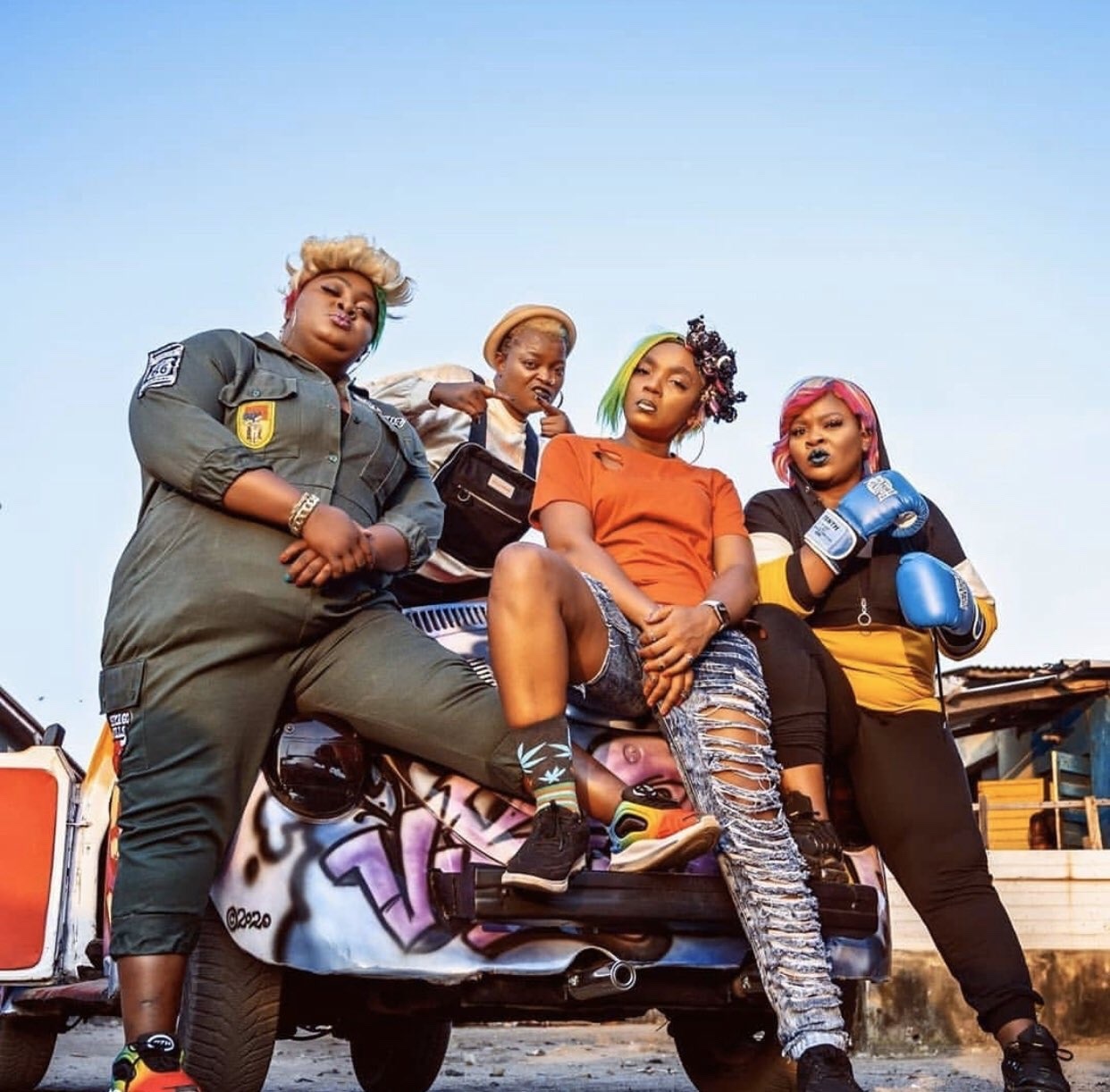 Many Nigerian am have visited cinemas nationwide to watch the Omo Ghetto 2. Many of whom have taken their twitter account to react to the movie. Here are some of the reactions
Omo Ghetto Saga!
Movie sooooooo on point! I enjoyed it. Everything soooo freaking ON POINT!

I give it to @funkeakindele !
You did a very GOOD job ma'am.????

— AREWA OF LAGOS ♏️ (@MisBukola) January 6, 2021
Funke akindele is such an amazing actor common!!! Ya'll go watch "Omo ghetto the saga" ?

— Lil Kesh (@lilkeshofficial) January 6, 2021
@funkeakindele
I am been telling my sis about the Omo ghetto saga, so she decided to see it after work today, I can't believe she told me she has to hold herself from going to the rest room for 2 hours cuz she no wan miss any scene ???? pregnant woman ???

— Mhz Pelz (@Mzsagacious) January 7, 2021
Omo Ghetto is lit! 10/10 for me. Really enjoyed it.

— Your Daddy (@ToyosiGodwin) January 6, 2021
Omo ghetto today was sold out.. we move tomorrow ?

— JT? (@Jesu_tomiisin) January 7, 2021
My cousin made this review on his whatsapp status about omo ghetto film. @funkeakindele pic.twitter.com/y3lIZbnglQ

— Oluwatoyin Green-Eboh ( OGE) (@tpgcool) January 2, 2021
That omo ghetto saga theme song lives in a 3bedroom flat in my head.

— Life_of_Goldie (@Goldiechukwuedo) January 6, 2021
You are missing a lot if you are yet to watch Omoghetto the saga by @funkeakindele , the movie is ??? pic.twitter.com/dcECIrDEZt

— DatAworiGirl (@i_am_Aishah) January 1, 2021
Omo ghetto is a fantastic movie!!

I have never been this impressed with a Nigerian movie!!☺️

— Miss Tosh (@IamMissTosh) January 5, 2021
Omo Ghetto na movie abeg,..I recommend
Big ups to Funke Akindele ??

— Fresh Bread? (@CynthiaTheBrand) January 5, 2021
God bless you @funkeakindele Omo Ghetto was beautiful! No dull moment. The acting was top notch, loved every moment.

— Adedoyin (@dhoyin_) January 2, 2021